Milan-Cortina 2026 Strategy
The Milan Cortina 2026 Strategy is the strategic, operational and structural plan for British Curling and is informed and underpinned by the What it Takes to Win (WITTW) model for curling.
The updated strategy recognises where British Curling's athletes and teams are positioned ahead of Milan Cortina 2026 and as a governing body we are fully committed to ensuring our organisation is fit for purpose and one which is wholly focussed on pursuing our ambition to consistently deliver medal success at world, Olympic & Paralympic level now and in the future.

British Curling's leadership and governance is responsible for the following objectives:
The strategic direction of and leadership of activities directly related to the Olympic and Paralympic Games, and preparation therefore across the 4 year cycle – ie leadership and management of the Scottish Performance Programme and Scotland Teams to World & European Championships annually.
All financial matters relating to British Curling including receiving any awards should they be forthcoming from UK Sport, sportscotland or any other interested party who may wish to invest in British Curling's Olympic and Paralympic success.
The employment and management of staff within the Governing Body.
The management of contracts and agreements relating to specialist services and expert support as required.
The management of all international tournament selections that relate to, or directly affect, selection to the Olympic and Paralympic Games.
The approach to selection will be to select the strongest athletes for the programme throughout the Olympic and Paralympic cycle to maximise the opportunity to qualify and compete for medals at the Olympic and Paralympic Games. British Curling uses What It Takes To Win (WITTW) insights and the coaches eye to then create effective teams from the selected athletes, with those team compositions reviewed annually.
Three pillars of What It Takes To Win model – Tactics, Shot-Making and Readiness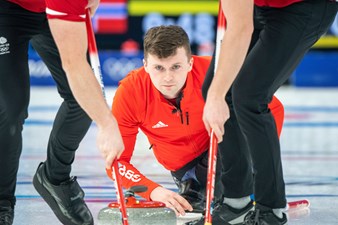 The application of the three pillars of the What It Takes To Win (WITTW) model – Tactics, Shot-Making and Readiness can be seen across all aspects of the programme and especially in athlete development. These three pillars drive the coaching and support services support delivered to athletes and teams.
Olympic Objectives -
Headline
• 2-3 Medals at Milan Cortina 2026 Olympic Games
Performance
• 2022-23 – World Championships – Top 8 women, Top 6 mixed doubles, Medal – men
• 2023-24 – World Championships – Top 6 women, Top 4 mixed doubles, Medal – men
• 2024-25 – World Championships – Top 4 women, Medal mixed doubles, Medal - men
• Men's, Women's, Mixed Doubles teams qualify for Milan Cortina 2026 Olympic Games by end of 2025 season
The evolution of the WITTW model is fundamental to our success and to drive excellence in performance British Curling is underpinned by effective and efficient policies, procedures and financial management. The Executive Performance Director is supported by the Senior Leadership Team (SLT), coaches and other specialist staff provided through a contract with sportscotland Institute of Sport, which includes cover to programme curlers across disciplines on both the Olympic and Paralympic programmes.
Together with the necessary information and tools to promote individual excellence, we develop appropriate on and off ice behaviours, through clarity in process and purpose, to ensure a positive and inspirational culture from board to athlete.
Paralympic Strategy
British Curling's strategic and operational approach to athlete support and development is aligned to our Milan Cortina 2026 Paralympic Winter Games (PWG) objective. Our Paralympic wheelchair curling programme is underpinned by the WITTW model and is supported by UK Sport's investment award.
This funding from UK Sport is combined with support from the sportscotland Institute of Sport. In addition to this, the Paralympic programme has received investment across the four year cycle from Sport England to focus on the England Wheelchair Programme. This has contributed to ongoing positive links with the Flower Bowl curling facility in Preston where there is a strong wheelchair curling programme and the new investment will help with England competing at the World B Wheelchair Curling Championships in Finland in November 2023, with the longer term objective being England (and Scotland) competing at the World Champions (A Division) annually.
Wheelchair curling as a Paralympic discipline has some key differentials from the Olympic disciplines:
- No sweeping - so the direction and weight cannot be changed after delivery.
- The WCF/IPC rules dictate that the team on the field of play must be of mixed gender at all times (WCF Rule 13).

The Wheelchair Curling mixed doubles discipline will be introduced to the 2026 Paralympic Games schedule for the first time.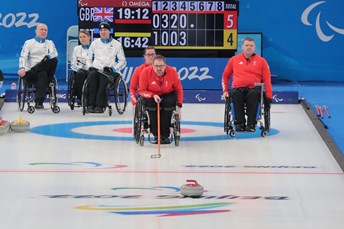 Paralympic Objectives -
Headline
• 1 Medal and one Top 4 at Milan Cortina 2026 Paralympic Games
Performance
• 2022-23 – World Championships – 2 x Top 8
• 2023-24 – World Championships – 2 x Top 6
• 2024-25 – World Championships – 1 x Top 4 1 x Top 6
Joined up approach
In each of the past four Winter Olympic/Paralympic cycles there has been a strong partnership between UK Sport, British Curling, the sportscotland Institute of Sport and Scottish Curling, outlined within a Memorandum of Understanding (MOU).

The MOU has been reviewed and updated to ensure a closer alignment and more effective governance arrangements between the parties. As a result sportscotland has continued to invest in Performance Foundation (PF) – pathway in Scotland - for this period in its new Corporate/Business Strategy and, as per the last cycle, PF support is delivered by British Curling across the Olympic and Paralympic programme.

The Scottish Curling Academy, which was implemented during the last cycle, provides a pathway into the Olympic programme. In addition to this, British Curling has recruited Cheryl Lappin as our new Paralympic Pathway Manager who has established a Paralympic Pathway and talent ID recruitment campaign to further enhance our pathway and programme delivery to maximise success within the international landscape of the sport.
Sport Scotland expert support services
The relationship between British Curling and sportscotland, who have been generous and supportive hosts for many years, may have evolved, however sportscotland expertise (and staff time) remains central to the delivery of the British Curling programme. Areas such as physical preparation, medical support, performance analysis, lifestyle support (and others) are delivered by sportscotland staff. The delivery is managed by a contract between British Curling and sportscotland.
In addition for the Milan-Cortina cycle, British Curling has additional expertise provided in partnership with the UKSI (United Kingdom Sports Institute) and some private contractors. This balance of provision is essential to ensure best practice and optimum impact on all aspects of the British Curling programme.
There are other relationships that are central to British Curling and how we operate. The Members of British Curling (as defined in the Articles of Association) are English Curling, Welsh Curling (both of which also represent their wheelchair curling bodies), Scottish Curling and Scottish Wheelchair Curling Association. The relationship with these member bodies is highly significant and whilst the Articles define that relationship in formal terms, enhancing the interaction and joint working is a clear objective.

MOU
The relationship between Scottish Curling and British Curling is particularly close. A Memorandum of Understanding exists between the two bodies outlining the relationship and the mutual ways of joint working and collaboration. That Memorandum will be updated at the start of every Olympic/Paralympic Cycle (next due after the 2026 Games are completed) and it forms a central part of the application for investment from UK Sport. It also currently confirms that British Curling is responsible for the "Scottish and British Curling Pathway", which is why British Curling leads on delivery of the Performance Foundation programme (a Scottish-only programme funded courtesy of investment from sportscotland), on behalf of Scottish Curling.

Change and impact in 2018-22 Cycle
The 2018-2022 cycle provided more than the usual number of challenges and uncertainty, during which the world and sporting world navigated a global pandemic building up to the 2022 Beijing Olympic and Paralympic Winter Games delivered within a 'closed loop', hosted less than six months after the delayed Tokyo Olympics and Paralympics took place within a 'bubble.' These, hopefully unique and unprecedented circumstances required meticulous planning and attention to detail and it is testament to all those organisations involved that the most important global sporting events in our calendar were able to take place, to continue the legacy of the Olympic and Paralympic movement. A worldwide collaboration which helped to create our champions, also provided the opportunity to innovate and explore new ways of working in a constantly changing environment, a true test to us and the rest of the elite sporting world in our quest for medals and success.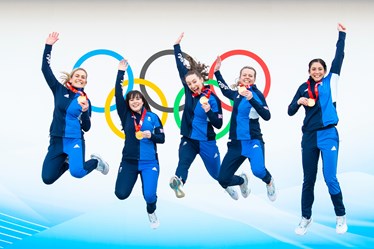 On the domestic front, the period was witness to a co-commissioned review, change in leadership (Chair and Performance Director), financial challenges, restructure, independence from sportscotland in April 2020 and a significant, dynamic shift in our culture and programme.

The failure initially to qualify the women's team for Beijing 2022 resulted in brave new squad approaches and for the first time ever we selected a quintet that would experience the 'last chance' Olympic Qualification Event and win it. That winning form would see them create their own destiny winning gold, two decades after Team GB's only other curling gold was won at Salt Lake City. It followed another Olympic final which saw our men win silver, results that registered curling as the most successful winter sport of the 2022 Games.

There were however missed opportunities, a third Olympic medal was within grasp, but our athletes had to settle for a fourth place finish the first time we competed in the Mixed Doubles discipline and our Paralympic ambitions faded too early in the event.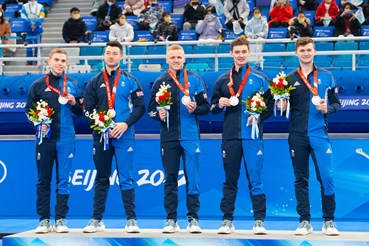 Nevertheless, that massive amount of change in a very short timeline, the impact we have been able to achieve through those changes and the world class performance environment we have now created at the National Curling Academy, has given us the capacity and knowledge to move from good to great and serves to set British Curling up to win more and win well in the 2026 cycle.
Aspirations for 2026
The impact we have seen from the changes and efforts made, has given us confidence to aspire to a "clean sweep" of medals in 2026. By that, we mean that we can and we will make every effort to win a medal in every discipline we compete in, from three Olympic and two Paralympic events. This level of aspiration is unparalleled for curling and no country has achieved such across-the-board success but we are confident that we have the potential to deliver. .
We further seek to guarantee a legacy of success built on the already growing reputation worldwide of a programme and a culture that leads the world. Sustained success through further strengthening the pathway and the infrastructure around our developing athletes (coaching, competition and technical enhancements) will position GB at the forefront of world curling for the next generations.
Resting on our laurels however goes against our culture. So we recognise that to deliver our aspirations there are changes that need to be made, headlining among them are:
Enhanced engagement - (two-way) with a focus on our athletes and coaches. The speed of change in the past cycle has impacted this area – we are not best in class currently and a commitment to enhancing this area will further improve the culture, the shared focus and drive to delivering the aspirant outcomes.


Embedding learnings from the covid period into the day-to-day - Covid enabled us to give a greater focus to technical development (in the absence of competition). That is paying dividends and we recognise the challenge, but also the clear benefit of capturing that learning and implementing it in non-covid times.


Coaching – growing our own expertise and expanding capacity and capability - We have some excellent coaches and since the start of the Milan Cortina cycle we have recruited a new Olympic Head Coach from our own coaching team. They are all on a learning journey and all have huge potential. We do however need more and that requires growing our own. We have made a good start on this with the recruitment of three apprentice coaches now in post and progressing well, while two former apprentice coaches have now graduated to a performance coach roles and have already delivered world class results. We need to ambitiously continue the development of our whole workforce, but especially our coaches. We need to invest time as well as money into this, prioritising development at key times over athlete sessions, however we are pleased to report that many of our athletes have progressed into coaching roles on either a part time or full-time basis. They are already enhancing our coaching team with their invaluable experience and knowledge of our world class programme.


Fresh approach to para talent identification and recruitment - Our 2022 Paralympic campaign clearly showed the challenges we face. We can address them, but we need fresh athletic talent to work with alongside our current athlete cohort. In response to this we have recruited a Paralympic Pathway Manager who has put in place an innovative approach to talent ID and recruitment that is already making a difference. Working closely with other parasports, the partnership means that this new role and Paralympic Pathway will help to create more opportunity, greater inclusion and better results.


Belief in our What It Takes To Win (WITTW) modelling and data - If Beijing proved anything to us, it proved that our WITTW model and data is a very strong predictor of success and of non-success. We are moving to a greater focus on this data and a greater awareness with and for athletes of how they rate progressively across the seasons/cycle. We could see ahead of Beijing that we had Olympic teams in and hitting medal form. We could see our Paralympic team were not hitting the required form. In curling, that form doesn't lie and the results stand for themselves. Having now tested and proven the WITTW model in the 2018-22 cycle, we can with confidence utilise this further as we build to 2026.
In the cycle ahead, we seek to strengthen the already close partnership with UK Sport and other key bodies within the British and Scottish sporting system – we present perhaps a unique model of partnership with sportscotland and UK Sport currently and seek to expand and build upon that with further development of engagement with Sport England and we would hope Sport Wales in time.

We will continue to change and adapt the way we do things in order to maintain and exceed our performance goals. We have recruited a new data scientist who will play a crucial role in our performance planning on and off the ice for this cycle and beyond, enabling us to harness new working partnerships with the creation of this role as well as other collaborative approaches in the areas of nutrition and sports psychology.
Curling was invented in Scotland in 1541. British Curling has in the last few years, reinvented the aspiration and the potential for curling in Britain and National Lottery players continue to play a crucial role in helping us to deliver our Milan-Cortina strategy and support the dreams of our Olympians and Paralympians. There will be challenges ahead, but collectively we will resolve and overcome these thanks to the investment in us from our partners, who know we will ensure levels of success that have not even been dreamed of previously.
Additional