After leading her quartet to the final of the St Petersburg Classic last week, Gina Aitken will once again skip British Curling's Team Blue as they head to Switzerland for The Challenger.
The newly created eight-team event, which takes place in the town of Basel, will once again see the full nine-player, British Curling elite women's squad in action against some of the best teams in the world including Sweden's Olympic champions Team Hasselborg and the host country's reigning world champions Team Tirinzoni.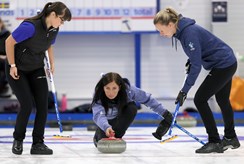 Aitken was playing alongside three-time Olympian Eve Muirhead when they last lined up in the same field as Hasselborg and Tirinzoni at another new event, the inaugural Euro Super Series in Stirling earlier this month, but they are rival skips this time around, as they were last week when Aitken guided her team to that final, an experience she relished and having waited more than a year to compete overseas, she is looking forward to another trip this weekend.
"Last week in Russia was amazing to be out in what was a really nice place and competing with international teams again, getting a feel for what we love doing," she said.
"Switzerland's always lovely, so I've got high hopes for this week, but it'll be a new place for me."
While satisfied with her start to the season that has brought podium finishes as part of two different line-ups, Aitken admitted that the squad system is asking questions of the players as it was designed to, with British Curling coaches having to work out the best women's combination to send to an Olympic qualifying competition for the first time ever.
"Generally, I've been really happy with the way things have gone. With things changing it's always going to be challenging," she said.
"You're always on your toes, having to work hard and focusing on the next thing, but so far, so good and it's been really enjoyable learning from playing with different players. That's been good. There's been a positive side."
After spending several seasons as a mixed doubles specialist, winning five Scottish titles in that time, Aitken made a major impact last season when she returned full-time to the four-player game when she skipped her team of Rebecca Morrison, Mili Smith and Sophie Sinclair to victories in two of the four women's tournaments staged by British Curling in the National Curling Academy and she has that group back together this week, along with two-time Olympian Lauren Gray.
"We're going to be a five-player team, close to the old team that we had last year. I'm looking forward to playing with those girls and with Lauren for the first time as well," she said.
"So, we've got lots of exciting things to look forward to for this event coming back, but after that we don't know. We're not sure what the plan is after next week. That's all to be decided by the coaches."
The next fortnight involves another trip to Switzerland, before the women head to Canada the following week and, with both British Curling teams having made it to the podium in both events so far, she believes it would be a mistake to start looking far ahead towards selection for the European Championships and the ensuing Olympic qualifying competition.
"There's a long way to go before then," said Aitken.
"Nothing's set yet and no-one's in a better position than anyone else, so we're just taking it as we go. We've had a few good results, but teams keep changing so you've just got to keep on going."
Muirhead will meanwhile line up with two of her regular teammates, Vicky Wright and reigning world mixed doubles champion Jen Dodds, as well as Hailey Duff for the trip to Biel.
"It's always nice to go to Switzerland. I've played a lot there and it is one of my favourite places to curl. It's another new combination and that's going to raise some challenges, but it's also going to bring some fresh ideas," she said.
"As a team we've had a really good week of training with our coach Nancy (Smith). We've worked on a lot of small details and our plan is to take that into Switzerland this weekend.
"We've also got two more events coming up with potentially different combinations there as well, but I think the best way of seeing it and the best way of focusing on it is for me just to be the best team player I can, regardless of who I'm playing with.
"It can be difficult as a skip for it to be constantly changing because you get no consistency and you don't have the same rotation as players, so that can be tough.
"However, I realise it's going to be like this until selections take place (for the major championships)."
While acknowledging the quality of the field, the former World and European champion has seen enough this season to be confident of performing well this week.
"We will target the event knowing we are one of the best teams there," she said.
"There's a great line-up with world champs and Olympic champs, but I think at all these events, regardless of the outcome, regardless of the result, we have to make sure as a squad and as a team that we take as much from it as possible and take that into the following couple of weeks we have planned."