After two impressive seasons in the senior game Team Whyte have been rewarded with increased support and promoted from British Curling's performance foundation level to podium potential.
Ross Whyte, Robin Brydone, Duncan McFadzean and Euan Kyle powered up the world rankings in their first season on the senior circuit in 2019/20 and while their opportunity to build on that was limited last season by the cancellation of most international events due to the pandemic, they showed excellent form domestically in reaching the final of every men's event held in the National Curling Academy (NCA).
"We were delighted to get selected and it is nice to get that recognition for all of the hard work we have been putting in since we first joined the men's tour," said skip Ross Whyte.
"Every member of our team is hungry for this opportunity and we know that we are just starting to show what we are capable of as a unit and we hope to get the chance to test our ability a bit further afield this year if the conditions and guidelines allow us to.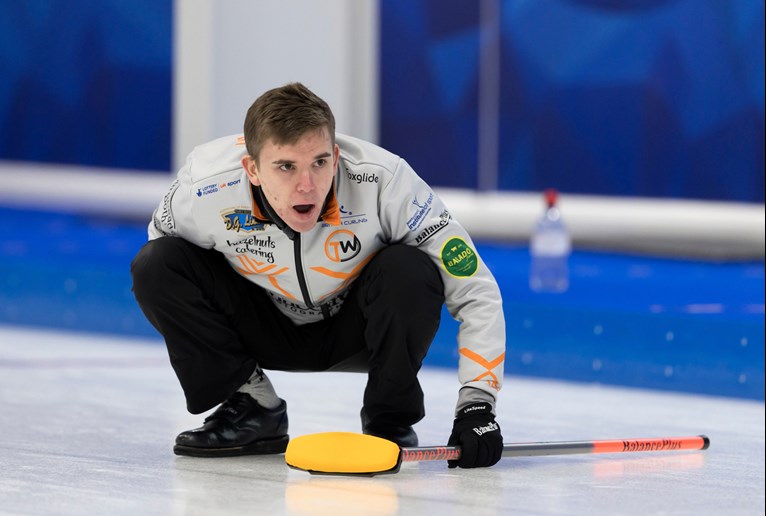 "Over the past year we have continued to push each other on within the programme and it was a great opportunity for me to experience a World Championships with Team Mouat. We can all learn a great deal from exposure to that kind of competition and it is something I want more of, for me and my team and the set up here at the NCA means we will all be supporting one another and also making each other better due to the intense rivalry. That can only make us all better as contenders on the world stage and I cannot wait for the competition schedule to get underway."
Whyte also won a World Championship silver medal as alternate for Team Mouat, who have dominated the Scottish and British game in the last two years and, after reaching that World Championship final in their first international event of last season, continued their sterling efforts by claiming historic back-to-back Grand Slam wins.
As the only British Curling line-up other than Whyte's that remains unchanged heading into 2021/22, their combination of Bruce Mouat, Grant Hardie, Bobby Lammie and Hammy McMillan retains its place as the men's podium team.
Team Paterson's rink has undergone a re-shuffle following 2014 Olympic silver medallist Michael Goodfellow's retirement from the game, while Cameron Bryce is also leaving the programme, as newcomers Gavin Barr and Scott Hyslop are introduced.
Hyslop slots into Team Craik along with Angus Bryce, ensuring that they are eligible to target a return to the World Junior Championships where they claimed a bronze medal the last time the event took place in 2020.
At the senior end of the women's game, a squad system is being introduced involving the eight players who were categorised as podium and podium potential last season along with Hailey Duff, who steps up from Team Wilson last season, in a bid to maximise the chance of earning qualification for Team GB at next year's Winter Olympics.
There is a welcome return to the programme for former Scottish champion skip Sophie Jackson, who joins the rapidly improving Team Farmer. Meanwhile, Lisa Davie, Amy MacDonald and Susie Smith are brought in for the first time, as Holly Davis and Jennifer Marshall leave the programme and Maggie Wilson steps down to focus on her new role as Scottish Curling's Head of Development.
Athlete Selections for 2021/2022:
Male programme:
Podium – Team Mouat 
Bruce Mouat
Grant Hardie
Bobby Lammie
Hammy McMillan
Podium Potential – Team Whyte:
Ross Whyte
Robin Brydone
Duncan McFadzean
Euan Kyle
Performance Foundation 1 – (name/playing positions TBC):
Kyle Waddell
Ross Paterson
Duncan Menzies
Craig Waddell
Performance Foundation 2 – Team Craik
James Craik
Scott Hyslop
Angus Bryce
Niall Ryder
Performance Foundation 2 – Team Watt
Mark Watt
Gregor Cannon
Blair Haswell
Gavin Barr

Female programme:
Podium & Podium Potential – squad in alphabetical order:
Gina Aitken, Jennifer Dodds, Hailey Duff, Lauren Gray, Rebecca Morrison, Eve Muirhead, Sophie Sinclair, Mili Smith, Vicky Wright.
Performance Foundation 1 – Team Farmer
Beth Farmer
Sophie Jackson
Kirsten Bousie
Emma Barr
Performance Foundation 2 – Team Henderson
Fay Henderson
Katie McMillan
Lisa Davie
Holly Wilkie-Milne
Performance Foundation 2 – Team MacDonald
Amy MacDonald
Susie Smith
Eilidh Yeats
Nicola Joiner