British Curling has announced its Paralympic squad for 2023-24. A total of ten athletes will contend for places at international events in the season ahead as the build up continues towards the Milan-Cortina Paralympics in 2026.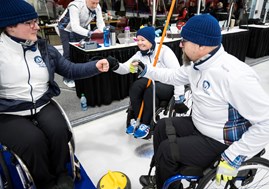 Stranraer's two time Paralympian Hugh Nibloe who skipped Scotland to World bronze – along with team mates Gregor Ewan, Gary Logan, Jo Butterfield and Meggan Dawson-Farrell – In Richmond, Canada earlier this year is delighted to have the growing competition for places.
"It is a really exciting place to be just now," said the 41 year old.
"The growing squad means we really have to raise the level at training. There is no hiding place and if you want to be in the team and getting a medal you have to give it your all every week, so it means the more established players like myself, Gregor (Ewan) and Robert (McPherson) have to work really hard alongside the relative newcomers, as we will all be challenging for team places and that is really going to help us moving forward.

"Winning bronze in our first year of this cycle is hugely encouraging as we know we can play better than that. Gary (Logan) was just returning to the programme after injury and Jo (Butterfield) was competing at her first ever World Champs, so there is huge potential for growth and everyone wants to be part of medal success and we know we can achieve more.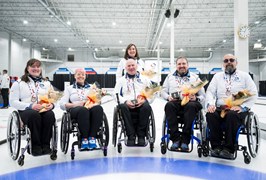 "We know we need to be among the medals every year now building towards Milan-Cortina and having a bigger and more competitive squad will, I believe, improve our chances.
"Our coach has done a great job constantly evolving our programme, listening to our needs and making constant improvements, which is really making a difference. We now have the best camaraderie on and off the ice which will really help squad and team dynamics, so despite the challenges, I know the programme can get the best out of us and that makes for really exciting prospects for the seasons ahead."   
British Curling's Head Paralympic Coach Sheila Swan said: "This is our largest squad in recent years and reflects the growing strength in depth that we have been developing. We believe that gives us the capacity to compete not only in the team game, but in mixed doubles events as we prepare for the first ever Winter Paralympics that will feature two wheelchair curling disciplines.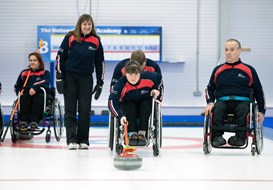 "That process has benefited hugely from the work that has been done to encourage and develop talent that has been identified south of the border by the English Curling Association, which saw programme supported athletes representing England, as well as Scotland at the World Mixed Doubles Championships last season.  
"However, we are also continuing to look for fresh talent to generate further internal competition for places and to ensure we have a fully developed player pathway as we aim to maximise our chances of success at the highest level in an increasingly competitive environment."  
PARALYMPIC SQUAD FOR 2023-24:
Charlotte McKenna
Gary Logan
Gary Smith
Gregor Ewan
Hugh Nibloe
Jo Butterfield MBE
Martin Sutherland
Meggan Dawson-Farrell
Robert McPherson
Stewart Pimblett

#curling
 Images: WCF/Cheyenne Boone, PPA/Graeme Hart.