British Curling's innovative women's squad system has registered further success at the St Petersburg Classic with podium finishes for both teams.
Following their triumphant start to the season on home ice when Rebecca Morrison, Lauren Gray, Jen Dodds and Mili Smith claimed victory at the inaugural Euro Super Series event in Stirling while the remaining five squad members – Eve Muirhead, Gina Aitken, Vicky Wright, Sophie Sinclair and Hailey Duff - reached the semi finals, the coaches rang the changes as they continue the process of examining combinations ahead of the European Championships and the Winter Olympic qualifying competition.
With World Mixed Doubles Champion Dodds unable to make the trip, that saw the previous weekend's skips Morrison and Muirhead work together this time around, along with Gray and Sinclair, while Aitken and Wright teamed up again, playing with Smith and Duff this time.
The Aitken led GB Blue line-up came through the round-robin section with a perfect 4-0 record, while three wins from four was enough to let their compatriots join them in the quarter-finals, where victories for both set up a battle of the Brits in the semi-finals.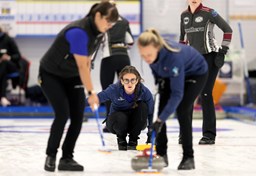 A hard fought encounter saw Aitken's GB Blue line-up edge 3-2 ahead after six ends and a steal of two at the seventh was sufficient to take them into the final.
Up against local favourites Team Kovaleva, they looked on course to take the title when they held the hammer at the sixth end with the scores tied at 5-5, but a steal by the Russians shifted the momentum and, forced to gamble, they conceded a steal of a further three shots at the decisive seventh end.
As Aitken noted, it was a remarkable performance by the entire squad given that they had been on a flight just two days after completing the Euro Super Series event in Stirling.
"We didn't get a lot of time to train as a team for this event so I'm really proud of my team this week for working hard for this second-place finish," she said.
"The arena in St Petersburg was lovely and it felt really good to be out competing in a new place."
She said they would have preferred their fellow British Curling squad members in the final but, for all that they were not quite able to claim the title, Aitken was pleased with the way they responded to the challenge of the play-offs in particular.
"We built up momentum all week for this final day of games," she said.
"Team Kovaleva played really well and we had some chances but had a few too many half shots which got us into some sticky situations."
While they were suffering that 9-5 defeat, GB Red finished on a winning note by defeating Switzerland's Team Keiser in the third place play-off.
"We're glad to finish on the podium after a really good week here," said Eve Muirhead.
"Coming up against the other squad members in the semi was always going to be a tough game and it was a really good game which could have gone either way. Unfortunately for Team Red we didn't manage to pull it out, but well done to the other girls, they played very well and it was nice to bounce back after that game and get the third place.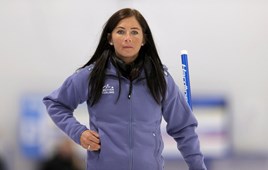 "It's always very tough to play in the bronze medal game, so I'm really glad we managed to do that and I think we can take a lot from this tournament forward, because we know how important each tournament is right now with timescales being a little tight.
"I think the squad's done very well this week and we have to thank the organising committee and everyone here in Russia who's been involved in what's been a fantastic event. Over the years I think it will grow and be better and better."