Scotland's Team Mouat is set to face Sweden's Team Edin on home ice in a re-match of this year's World Championship final when British Curling hosts its first major international event as the Euro Super Series is launched at the National Curling Academy in Stirling this month.
Team Edin will be accompanied on the trip across the North Sea by reigning Olympic women's champions Team Hasselborg in a world class field as the governing body of the elite game in the United Kingdom builds on work done last season when it staged an array of domestic events to ensure that its players went to their respective World Championships fully match fit.
That was rewarded with the extraordinary performance of skip Bruce Mouat and teammates Grant Hardie, Bobby Lammie and Hammy McMillan, as they reached the finals of three successive events in the Calgary bubble, at the World Championships, then two of the prestigious Grand Slam of Curling tournaments which are contested by the top 12 teams in the world.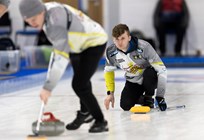 While they were thwarted by their European rivals Team Edin in the World Championships, who were claiming a record fifth title, Mouat's men went on to achieve unprecedented success in winning both Grand Slam events, heightening the rivalry between the men who have shifted the balance of power between Canada and Europe in recent years.
Mouat then made further history by bringing the World Mixed Doubles title to Scotland in tandem with Jen Dodds, who will feature in one of the British Curling women's teams that will contest the tournament which will take place from August 31 to September 5.
Along with Team Mouat, five more home-based teams – Team Whyte, Team Paterson, Team Watt, Team Craik and Team Bryce – will provide the home challenge in the men's competition, which will also include Switzerland's Team de Cruz, who completed a European sweep of the podium at the men's World Championships by beating the Russian Curling Federation to the bronze medal.
In a similarly high class competition British Curling's leading women, who are currently working as a squad of nine vying for places in the forthcoming Olympic qualification event, will face Switzerland's back-to-back world champions Team Tirinzoni, as well as Hasselborg's Olympic champions in another 12 team tournament.
"British Curling faced extraordinary challenges last season in responding to the shutdown of international competition due to the pandemic and the response of our staff as well as our players was quite exceptional," said Executive Performance Director Nigel Holl.
"In particular the innovative work in setting up a season-long schedule of events not only allowed our players to maintain their competitive edge, but opened up new opportunities and we are keen to capitalise on those.
"The easing of restrictions now means we have been able to invite the very best in Europe to come and join us at our magnificent, purpose-built home at the National Curling Academy to launch what we hope will be a new era of high class competition on this side of the Atlantic with the creation of the Euro Super Series."
The teams will be formed into two groups of six for round robin competition with the winners of each group progressing to the semi final and the final will take place on Sunday 5 September.
Line up:
 Men (& WCF Ranking)                                    Women (& WCF Ranking)
Team Edin (8)                                                 Team Tirinzoni (7)
Team Mouat (5)                                              Team Hasselborg (1)
Team DeCruz (9)                                            Team GB Red
Team Schwaller (6)                                         Team GB Blue
Team Paterson (12)                                         Team Jentsch (25)
Team Whyte (17)                                            Team Schori (27)
Team Italy (29)                                               Team Hurlimann
Team Totzek/Muskatewitz (57)                         Team Farmer (61)
Team Van Dorp (28)                                        Team Keiser/Witschonke (58)
Team  Bryce                                                    Team Wrana (17)
Team Watt                                                      Team MacDonald
Team Craik (96)                                              Team Henderson
There will be live streaming throughout the event.  
Competition draw. 

Image: ©PPA/Graeme Hart