British Curling's women claimed another confidence building tournament win in high quality company as Eve Muirhead led Team Red to victory in the final of The Challenger, a newly established event in Switzerland that featured both the reigning Olympic and World champions.
It was the third event of the season that has featured the nine player British Curling squad, playing in different combinations of four and five players and one of the teams has reached each of the finals, with Rebecca Morrison leading her team to victory at the Euro Super Series at the National Curling Academy (NCA) in Stirling in the first event, before Gina Aitken's team reached the final of the St Petersburg Classic in Russia.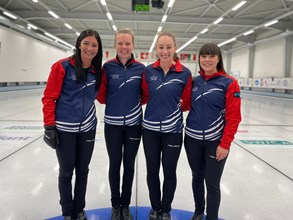 This time around the teams were close to last season's formations and it was the quartet of Muirhead, Vicky Wright, World mixed doubles champion Jen Dodds and Hailey Duff that came through the round-robin qualifying stages, winning three of their four round-robin matches.
In the semi-final they then met Silvana Tirinzoni's World champions and powered into a four shot lead after two ends, maintaining that advantage to lead 6-2 after five ends and controlling the scoreboard thereafter to run out 7-5 winners.
The final followed a similar pattern against another of the home rinks that had been the only team to come through the round-robin stages unbeaten as they surged into a 5-1 lead after four ends and while they then conceded a three at the fifth, they again maintained their composure as single shots were exchanged over the last three ends to secure another 7-5 win.
"For all four of us it means a lot to get a win on the European Tour," Muirhead said afterwards.
"We've all adjusted very well to the different combinations so far and it was nice this week to have a four player team to have a bit of consistency moving forward and I think we managed to build on some good performances going from game to game.
"To play Irene Schori in the final and to win that was particularly pleasing. It rewards a lot of the hard work that we're all putting in at the NCA and it's nice when that pays off."
With British Curling having to put a women's team into the final Olympic qualifying competition for the first time ever this season, Muirhead is acutely aware of the importance of early season form as players vie for inclusion in that event.
"The next two events it's also going to be very beneficial being back on the international circuit," she said.
"Every event we play just now is really important for the coaches to see and for the players to be able to put in their best performances before selection."
They all face a challenging schedule over the coming weeks, including considerable travel time as they play in further events on either side of the Atlantic.
"We've got Basel next week and then a trip to Canada, so these are very important events and all nine of our players are going to be striving to build on this week, in our case on the win and the other girls looking for some momentum going into Basel," said Muirhead.
"So, I think there's a lot we can take from this event, a lot of very positive stuff and we're really looking forward to a day off tomorrow, then some really good training on Tuesday and Wednesday before flying back over to Switzerland on Thursday."

Results