As his team heads into the last and most important event of their season when they contest the World Junior Curling Championships in Sweden (May 15-22), James Craik is looking back to the way their 2021/22 campaign started as a key benchmark.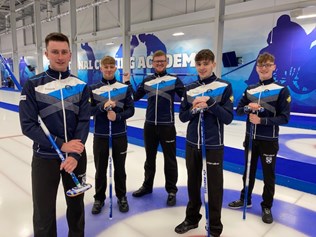 Craik and teammates Angus Bryce, Scott Hyslop and Niall Ryder were among those who benefited from British Curling's innovative decision to introduce the first ever European Super Series (ESS) event in Stirling at the beginning of the season, attracting many of the world's top teams.
Now they find themselves in the home country of the newly crowned Olympic men's champions pursuing their own major goal of this season in Jönköping and their skip believes the tone was set at that competition back in August.
"It's been really good this season. We've played in loads of events, both junior and senior and gained a lot of experience," said Craik.
"We've played against some of the world's best, especially at the ESS in Stirling at the start of the season when we played against quite a few top teams, including the likes of Niklas Edin, who's now the Olympic champion.
"We took a lot from these men's competitions and we're looking at bringing that into the junior game and hopefully that will give us an advantage over the other junior teams in this competition."
Having taken pride in the way their fellow British Curling athletes have performed, they are now looking forward to making their contribution to a season that has seen Scotland become European men's and women's champions in the same season for the first time ahead of both Team GB teams reaching Olympic finals, with the women claiming gold, before Eve Muirhead and Bobby Lammie successfully defended the World Mixed Doubles Championship title won the year before by Jen Dodds and Bruce Mouat.
"Taking inspiration from the Olympics and the Worlds has been quite key for us," said Craik.
"Seeing how well Scotland and Great Britain have done as a whole really gives us confidence, knowing that we're part of the same programme as them and that it prepares the best in the world, so hopefully we can perform like that when we get onto the world stage.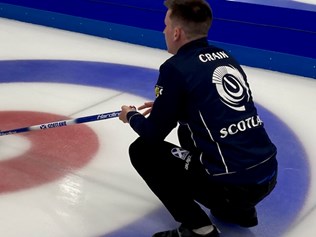 "It's been great to see the success for these teams, however we are out there to make a statement for ourselves and hopefully we can do that by bringing home a medal for Scotland.
"We're really keen to show our own strengths and talent and hopefully set ourselves apart from the rest and prove again that British Curling and Scottish Curling is the best in the world."
Craik, Bryce and Ryder were all part of the Scottish team that claimed bronze when the World Juniors were last held and they are eager to upgrade that, but involvement in that competition has also given them a strong understanding of what they are up against.
"Like any Championships we're going to be up against it," said Craik.
"There's not going to be any easy games, this field will be really, really difficult, but we know what to expect with some of us having been there before. We know that no game is a given and we really need to push and fight and be prepared to throw the last stone in every single game.
"Pushing forward now, we're just so hungry for it. This is my last year at Juniors and for the guys there's only a couple of years left, so we're really hoping to make a statement and come home with a good coloured medal this time."
He believes they have prepared as well as possible, having become the latest to gain maximum benefit from access to the National Curling Academy.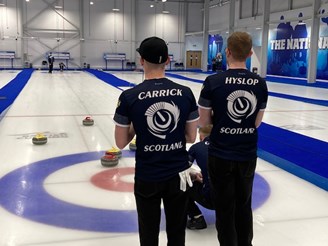 "The World Juniors has been our major target for the whole season. We had to qualify through the Nationals, which we managed to do undefeated, which was great," said Craik.
"I feel like our team is in really good form just now.
"We had a really good training camp over the last three weeks before going out, with increased training due to a lot of the other teams stopping and finishing up for summer, so we had the whole National Curling Academy to ourselves, which was brilliant.
"So we were able to access all the facilities and really give it that final push towards this last event of the whole season."
The men's field consists of: Canada, Germany, Italy, Korea, New Zealand, Norway, Scotland, Sweden, Switzerland and United States
The reigning champions, Canada, bring a new team to the world stage, skipped by Owen Purcell. 
Live games will be available to watch through The Curling Channel in partnership with Recast.
Scotland – Team Craik
James Craik
Angus Bryce
Scott Hyslop
Niall Ryder
Jack Carrick
Scotland – Team Henderson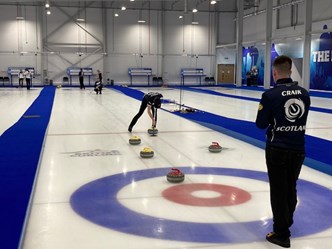 Fay Henderson
Katie McMillan
Lisa Davie
Holly Wilkie-Milne
Robyn Mitchell
Sunday 15 May  (all times BST)
Scotland – Korea (men) – 8.00am
Scotland – Canada (women) – 1.00pm
Scotland – USA (men) 6.00pm

Monday 16 May
Scotland – USA (women) – 8.00am
Scotland – New Zealand (men) – 1.00pm
Scotland – Switzerland (women) – 6.00pm

Tuesday 17 May
Scotland – Germany (men) – 8.00am
Scotland – Japan (women) – 1.00pm
Scotland – Italy (men) – 6.00pm

Wednesday 18 May
Scotland – Norway (women) – 8.00am
Scotland – Canada (men) – 1.00pm
Scotland – Latvia (women) – 6.00pm

Thursday 19 May
Scotland – Norway (men) – 8.00am
Scotland – Korea (women) – 1.00pm
Scotland – Sweden (men) – 6.00pm (Broadcast game)

Friday 20 May
Scotland – Sweden (women) – 8.00am
Scotland – Switzerland (men) – 1.00pm
Scotland – Denmark (women) -  6.00pm
Saturday 21 May
Men's Semi Final – 1.00pm
Women's Semi Final – 6.00pm

Sunday 22 May
Men's Finals - 8.00am
Women's Finals - 1.00pm
#curling #WJCC2022