James Craik and his new look team powered to victory at the Asham Under 21 Slam event at Curl Edinburgh as they went through their pool matches unbeaten before registering comprehensive wins in both their semi-final and the final.
Their semi-final against Team Carson ended at the seventh end after they had built up a 7-3 advantage, before they ran out 10-2 winners against Team Tonkita to secure the title.
"We're really happy to claim our first title as a new team," said the 20-year-old skip.
"We've mainly been playing in men's events, but we had a European Junior Curling Tour event in St Galen last month where we were happy with our performances and this weekend everything came together, so all in all we're just pleased with a pretty strong, clinical performance.
"We played to the top of our level in the final and really just showed what we can do and that's put a marker down for us."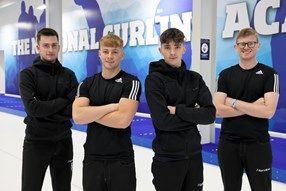 Craik believes that playing in those senior events has helped the team gel after they made line-up changes in the summer in order to remain eligible to compete in junior competitions.
"We're really thankful to have the international experience that we've had so far and we're excited for the other trips we have abroad, which I think is what set us apart this weekend from the other teams," he reckoned.
"We're excited to get back to training and build on our findings that we got this weekend. We were dominant throughout, not losing a game, but there were areas where we felt we can both improve and it gives us a better idea of the other teams, because we hadn't played a Scottish under-21s yet, so the teams we were facing were new to us.
"It's good to see what's out there, so that we can gear our training round making sure we can capitalise on any mistakes or weaknesses they have.
"Since the start of the season we've really improved. We were a new team this year because some old members of my team were over age (for the World Junior Championships) so it was a case of getting back to square one and getting some dynamics going, then the technical and bringing the whole team together. We really couldn't be happier."
Their next trip is to Champery next week when they will again be competing at senior level.
"We're really excited to get back to Switzerland which is such a great country and where the competition level at the Champery Masters will be really, really high, so we're keen to test ourselves against some top teams," he said.
"We have some pretty big targets and high expectations. We really want to focus in on our junior nationals and trying to qualify for the World Junior Championships in Sweden. Three of us have been there before and we'd really like to have the opportunity to build on the bronze that we brought back to Scotland last time.
"Leading up to the Nationals in a few weeks' time we've got a really busy schedule with four competitions in a row after this one. After Champery next week, we've got Dumfries the week after and then we have a two week stint where we compete in Berne and then straight to Prague for two men's events. We're really hoping to be in peak form for those and ready to contest for a title. We're really happy with where we're at just now, but we know what we need to work on and we're looking to put that into practice."
Team Craik
James Craik
Angus Bryce
Scott Hyslop
Niall Ryder