World Mixed Doubles champions Jen Dodds and Bruce Mouat completed a perfect week's work with their seventh successive victory to claim the British Curling Mixed Doubles title in the National Curling Academy, but were pushed all the way by familiar foes.
Vicky Wright and Grant Hardie, who play alongside Dodds and Mouat respectively in their men's and women's teams that will represent Team GB at the Winter Olympics, took an 8-7 lead into the last end of the final and had an opportunity to take the match into extra time, but a marginal misjudgement proved costly.
It was a closely fought final, worthy of a meeting of the two teams that had gone through the event unbeaten to that point, winning all five matches in the pool stages and then their semi-finals earlier in the day.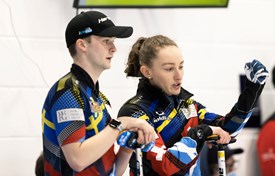 In those semis, Wright and Hardie had powered past Zuzana Paulova and Tomas Paul who will represent the Czech Republic at the Winter Olympics, beating them 7-1 after just five ends.
However, Dodds and Mouat faced a much tougher battle against another two of their regular men's and women's teammates before beating Eve Muirhead and Bobby Lammie 5-3.
"We were really hoping for games like that this week," Mouat said afterwards.
"Obviously it's our last event before we head off to Beijing and we got two of them today against Bobby and Eve, then Grant and Vicky. Both teams turned it up and played amazing curling."
Both their teams had been due to head to a Grand Slam event in Canada later this month, but following its cancellation this event, itself hastily rearranged with a late switch from Aberdeen, became their last competitive outing before the Olympics and Mouat sees some advantages in that.
"We're very excited to finally realise that was the last game before we head off. It was a really good way to finish off and we'll enjoy the flight over to Beijing," said Mouat.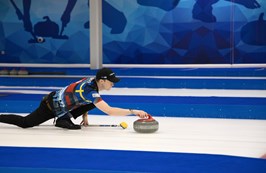 "It's a nice way to end because it keeps mixed doubles at the forefront of our minds heading into the event.
"We start a few days before the opening ceremony and the buzz around the village will be there and we'll obviously be excited to play, so having this experience just before going is going to help us."
"Both of us have had a great season so far and it's exciting to see what we can do."
After his men's team moved to number one spot in the world rankings following the New Year recalibration earlier this week, Mouat knows he is making the trip loaded with expectations, but he intends to embrace that, saying: "The pressure on being World champions is a two-edged sword. It obviously puts a target on our back, but it also puts pressure on other teams that will have to play well to beat us."
While the pair had not played in an international mixed doubles event between winning their World title in May and the Gothenburg Mixed Doubles Cup, which took place between Christmas and New Year, Dodds reckoned they had got back into the groove without too much trouble as they claimed a bronze medal in Sweden, losing just one match, their semi-final, in the course of that event.
"Even in Gothenburg we got back into the swing of mixed doubles really quickly and this is just another progression of fine tuning the little things we needed to work on and even things we know we need to work on in the next couple of weeks before we fly," she said. 
"We've got all that sorted and we can get to training and make sure we have a good plan going out there."
Both are also travelling to Beijing as European Champions after Scotland completed a first ever men's and women's double victory in November, while the women can now look back on having to come through the highly pressurised last ditch Olympic Qualification Event (OQE) last month as having provided an added bonus.
"Hindsight's a wonderful thing, so with the Slam being cancelled this month, we had the OQE as another championship when for quite a few of the teams their last competition was the Europeans in November," Dodds noted.
"So, we were really fortunate to get another competition and for us it was another stepping stone in building on from the Europeans which put us in really good stead.
"It's given us a lot of confidence going into the Olympics and a lot of confidence that I can take into the mixed doubles with Bruce."
The outcome of the final was obviously a disappointment for their opponents but they were also able to take a great deal from the event as they switch from providing keen opposition to fully-fledged supportive mode.
"They took their powerplay needing two for the win and played a pretty good end. Vicky had a hit and roll with her last to lie two and force them, but I just over-swept it and clipped our back one which left Jen with a tap back for two which she made," said Hardie.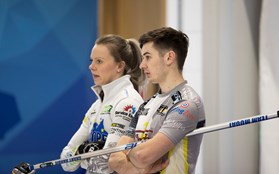 "I'm really happy with how we played throughout the event, though. Both of us were playing really well. Vicky was making a lot of clutch shots and we really enjoyed it.
"It's maybe not the competition we want to be playing when it's mixed doubles rather than a men's event, but it's competition and it gets the juices flowing that way.
"It was a great game, but they're going to punish you when you give them a chance which they did. They'll do great out in Beijing and I'm looking forward to cheering them on when we get there."
His priority now, however, is to make sure that along with Mouat, Lammie, their lead Hammy McMillan and their alternate Ross Whyte, they are as ready as they can possibly be for Beijing.
"We'll need to get back on ice the four of us," said the Team GB vice skip.
"For various reasons we've maybe not had as much ice time as we'd like over the last month, so we're looking forward to getting a good month's training under our belts and everyone's got the same challenges across the world, so we've just got to be as best prepared as we can."
Draw 1 results:
Dodds/Mouat v Farries/McNair 8-3
Paulova/Paul v Morrison/Brydone 6-7* (*shoot-out win)
Aitken/Kyle v Smith/McFadzean 3-6

Draw 2 results:

Muirhead/Lammie v Young/Menzies 9-3
Wright/Hardie v Yeats/Haswell 13-3
Duff/Mcmillan v Sinclair/Whyte 3-8
Draw 3 results:
Smith/McFadzean v Morrison/Brydone 6-7
Aitken/Kyle v Farries/McNair 10-1
Paulova/Paul v Dodds/Mouat 2-5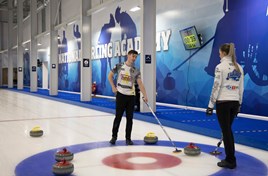 Draw 4 results:
Sinclair/Whyte v Yeats/Haswell 7-3
Duff/McMillan v Young/Menzies 2-8
Wright/Hardie v Muirhead/Lammie 7-4
Draw 5 results:
Aitken/Kyle v Paulova/Paul 1-8
Farries/McNair v Smith/McFadzean 5-9
Dodds/Mouat v Morrison/Brydone 8-0
Day 2 – Draw 6 results:
Duff/McMillan v Wright/Hardie 6-8
Young/Menzies v Sinclair/Whyte 1-8
Muirhead/Lammie v Yeats/Haswell 9-1
Draw 7 results:

Morrison/Brydone v Aitken/Kyle 3-7
Smith/McFazean v Dodds/Mouat 1-8
Farries/Menzies v Paulova/Paul 2-6

Draw 8 results:
Yeats/Haswell v Duff/McMillan 9-9 (DSC win D/Mc)
Sinclair/Whyte v Muirhead/Lammie 4-7
Young/Menzies v Wright/Hardie 3-9
Draw 9 results:
Paulova/Paul v Smith/McFadzean 7-1
Dodds/Mouat v Aitken/Kyle 7-6
Morrison/Brydone v Farries/McNair 8-2
Draw 10 results:

Wright/Hardie v Sinclair/Whyte 7-4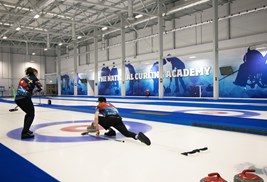 Muirhead/Lammie v Duff/McMillan 8-0
Yeats/Haswell v Young/Menzies 6-7 
Quarter Final results:
Muirhead/Lammie v Morrison/Brydone 6-1
Paulova/Paul v Sinclair/Whyte 7-1
Semi Final results:
Dodds/Mouat v Muirhead/Lammie 5-3
Wright/Hardie v Paulova/Paul 7-1
Final:  
Dodds/Mouat v Wright/Hardie
Line scores @CurlingZone
#curling
PPA/Graeme Hart