Jen Dodds and Bruce Mouat had to settle for a bronze medal on their first appearance together since winning their World title, but were still highly satisfied with their performance at the Gothenburg Mixed Doubles Cup.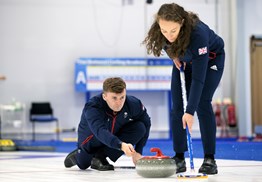 In a re-match of May's World Championship final in Aberdeen, the Scottish pair looked to be on course for the final until uncharacteristic mistakes allowed their Norwegian opponents Kristin Skaslien and Magnus Nedrogotten to turn the match on its head with a steal of three at the seventh end before clinching the semi-final 7-5 with another steal at the last.
Both teams then went on to win their final matches against two more Olympic bound teams, the Norwegians beating the host nation's Almida de Val and Oskar Eriksson 8-3 to claim gold, while Dodds and Mouat beat Switzerland's 2018 Olympic silver medallists Jenny Perrett and Martin Rios 7-3 in their third-place play-off. 
Having won six of their seven matches at the event, they were consequently not overly concerned about that solitary defeat.  
"It was a really good game against Norway," said Mouat.
"We felt like we were in a lot of good positions early on in the game and managed to build a bit of a lead.
"Unfortunately, we missed two crucial shots in the seventh end and let them steal a three off us, but the good thing is that we're playing really well and made a lot of good shots throughout the tournament."
Dodds reinforced that message, saying "It felt like we were in control after getting the good start we were looking for.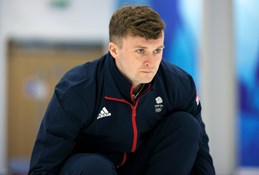 "It was disappointing in our powerplay in the seventh end that we gave up that three, but we can still take a lot of confidence knowing that it was just our mistakes that cost us. So, we can control that and next time we'll know what to do.
She noted that the way they had performed across the event offered reassurance that they have been preparing well, given the overall quality of the opposition.
"It gives us a lot of confidence playing a high standard of field when a lot of them are going to the Olympics as well, so it's good to play them before we get to Beijing," she said.
"It's all very encouraging, so after a couple of days off it's back to Stirling for another competition and we're looking forward to that."
And Mouat, who missed out by the narrowest of margins on going to the last Winter Olympics when he and then partner Gina Aitken finished in ninth spot in the rankings with the top eight going to PyeongChang, reckoned their final match was a good measure of their readiness for Beijing.
"Winning the bronze medal game against the Swiss who were an Olympic silver medal winning team tells us that we are in a good spot heading into Stirling next week and then further afield for the Olympics when we get there," he said.