A comprehensive victory over Turkey took Scotland's Team Muirhead into the play-offs at the Le Gruyere AOL European Curling Championships in a positive frame of mind after they finished clear at the top of the round-robin standings with an impressive 8-1 winning record.
Eve Muirhead, Vicky Wright, Jen Dodds and Hailey Duff had gone into that final round-robin match knowing they had already done enough to secure top seeding in the semis, but their 9-4 win reflected their determination to maintain standards and form heading into the knockout stages.
After earning the right to hold the hammer at the opening end, having won the pre-match last stone draw contest, as has been customary for most of the week, there was a minor hiccup at the opening end when they allowed their opponents to steal a shot, but a three at the second put them in charge and they were never threatened from that point.
"That was another good win," said skip Muirhead.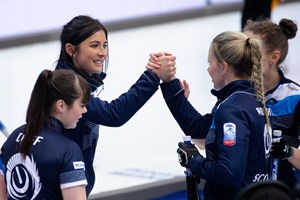 "We knew we had to come out with a lot of energy this morning. After qualifying yesterday, coming to play at eight o'clock this morning was always going to be tough with a 5.15 alarm, so we knew we had to come out and be clinical and I think we did exactly that."
Finishing top means they meet the team that finished fourth in the round-robin and brings with it the advantage of choice of stones in the semi-final, as well as the hammer, leaving them simply to concentrate on ensuring they are fresh and raring to go.
"We're really pleased with our round-robin and now we've got a lot of hours off before our semi-final at eight o'clock (7pm GMT), so I think it's important that we rest up in between and do what we need to do as a team, what we need to do as individuals, because tonight's the big game," said Muirhead.
"All that hard work in the round-robin was to get ourselves in this position and that's done."
As one of the most successful players in the sport's history, the 31-year-old is aiming for a 10th medal at the Euros, which will be assured if they win that semi-final and she can take confidence from her record of 14 straight wins and no defeats to opposing skip Daniella Jensch down the years.
However, the Germans have performed well this week and, confident as she is in her team's abilities, Muirhead is fully focused on the task in hand.
"Playing Germany will be a difficult game, we know that, but I think we're capable of a lot of good things, so we just need to keep the momentum going," she said.
The first semi final takes place earlier in the day with Russia meeting defending champions Sweden after reigning World Champions Switzerland missed out on the play-offs.
Scotland Team
Eve Muirhead
Vicky Wright
Jen Dodds
Hailey Duff
Mili Smith
#curling #ECC2021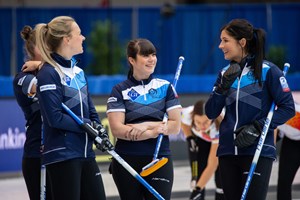 PHOTOS: WCF / CELINE STUCKI & STEVE SEIXEIRO
Schedule and Results
Saturday 20 November
W Scotland v Russia 7-4
M Scotland v Sweden 6-2
W Scotland v Denmark 8-2
Sunday 21 November
M Scotland v Finland 6-2
W Scotland v Sweden 8-5
M Scotland v Italy 10-5
Monday 22 November
W Scotland v Germany 9-5
M Scotland v Netherlands 9-2
W Scotland v Estonia 10-3
M Scotland v Germany 10-5
Tuesday 23 November
W Scotland v Italy 7-8
M Scotland v Denmark 9-8
W Scotland v Czech Republic 9-1
Wednesday 24 November
M Scotland v Switzerland 7-1
W Scotland v Switzerland 7-2
M Scotland v Czech Republic 10-5
Thursday 25 November
W Scotland v Turkey 9-4
M Scotland v Norway 11am
W Semi Final Sweden v Russia 3pm
W Semi Final Scotland v Germany 7pm
Friday 26 November
M Semi Final 2 v 3 8am
M Semi Final 1 v 4 12.30pm
W Bronze medal game 5pm
Saturday 27 November
M Bronze medal game 8am
W Gold medal game 11.30am
M Gold medal game 4pm