Having enjoyed the success of its first major international event and the quality of the accompanying streaming service, British Curling is now looking to ensure it builds on the platform it has created in every sense.
Players and viewers have expressed their enjoyment of the inaugural Euro Super Series which saw Olympic and World champions do battle with the host nation's leading players at the National Curling Academy (NCA) in Stirling and Nigel Holl, British Curling's Executive Performance Director says it will be the first of many.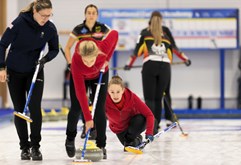 "One of the positives that we experienced as a result of the difficulties generated by the pandemic and consequent lockdown was that we had the capacity to stage events at the NCA as we worked, last season, to maintain a competitive edge for our players when the international events calendar was shut down," Holl explained.
"When reflecting on that, we realised that there was no reason that we could not scale things up in order to put on an international event and we wasted no time in setting up the Euro Super Series competition.
"We were delighted that so many of Europe's top teams not only agreed to take part, but were eager to come and the feedback we have had with them in regard to the facilities we have at the venue that was created to be our training base has been universally positive.
"Skips like Niklas Edin, Sweden's five time World champion, his compatriot Anna Hasselborg, the reigning Olympic champion and Switzerland's Silvana Tirinzoni have all told us that they loved the venue and felt the quality of the ice was of stadium standard, providing the perfect preparation for major championships and Grand Slam tournaments.
"That feedback should only strengthen the confidence of our own players who excelled at this event, with the GB Red team of Rebecca Morrison, Lauren Gray, Jen Dodds and Mili Smith winning the women's event, while in the men's event Ross Whyte, Robin Brydone, Duncan MacFadzean and Euan Kyle also put in a magnificent performance to reach the final where they were narrowly beaten by another of the world's leading rinks, Team Schwaller from Switzerland.
"With our long-established skips Bruce Mouat and Eve Muirhead also leading their teams into the play-off stages, this was confirmation of the growing strength in depth of our squads and the highly competitive performances of some of our younger teams reinforced that."
However, it was not just the event itself that represented a breakthrough, since British Curling joined forces with pioneering new sports broadcasting platform Recast, which allowed more matches to reach a much wider audience, while bringing welcome additional income.
"Having dipped our toes into streaming over the past12 months, to now find a way of getting some value back on those efforts is very exciting since it enables us to feed any income directly back into the sport and the programmes we are running," said Holl.
"While we have always been grateful for any broadcast coverage curling events have received, we have had no real way of monetising our live or near live content. By choosing to put our matches on Recast it offers a unique solution and monetisation model, which finally creates a competitive marketplace for a wider array of sports and brings real value to broadcast rights.
"The cleverest aspect is that they have found a way of commercialising sports coverage that lets viewers watch events without them incurring any financial cost, simply by promoting those events on social media or by watching adverts that are made available by Recast to accrue credits, and what is even better is that there is also no financial impact or cost to British Curling."
Holl said the money brought in will be reinvested in the sport to add value for both players and viewers and said that British Curling will now be looking for further opportunities to maximise these benefits.
"Because we have had to severely limit the number of people who could be in the NCA, it has taken an extraordinary commitment from our staff to allow this to happen, but everyone is buzzing as a result of way the event itself and the streaming coverage has been received, going way beyond any expectations we could have had," he said.
"One of the most telling discoveries is that close to 50 per cent of the viewers of the Euro Super Series were from overseas, which gives us further insight into the interest that exists in our players across the world and the resultant potential of staging events that can be broadcast in this way.
"We are now actively looking into how to capitalise on that fully and that will certainly include looking to stage further Euro Super Series events at appropriate points in the curling calendar."
British Curling's Recast Channel:  https://share.recast.app/u/64jxA?referrer=64jxA