Beth Farmer is to join reigning Olympic and European champions Team Muirhead for the 2022/23 season as British Curling sets out on a new four year cycle targeting further success in Milan-Cortina in 2026.
The 21-year-old, who has previously combined her career as a freelance shepherd with establishing herself as an up and coming talent in the sport, will work with Eve Muirhead, Jen Dodds and Hailey Duff following the decisions of vice skip Vicky Wright and alternate Mili Smith to retire from the British Curling programme following their Olympic triumph. 
The decision represents a major opportunity for a player who has been skipping her own team and Farmer readily accepted the invitation to step up from being supported at Performance Foundation level, to being offered a place in the Podium funded squad.
"I wasn't expecting the opportunity to move up into Podium this year, but I was over the moon when I got the chance," she said.
"I am so excited to get going on ice with the girls and hopefully we can have a good season on tour."
Having attended the wedding of former teammate Wright last weekend, skip Muirhead has vast experience of dealing with line-up changes in the course of a career that has seen her lead British Curling teams into the last four Olympics and welcomed Farmer's recruitment as her team prepares for a new challenge.
"We're really excited for a fresh start and pleased to have Beth on board," she said.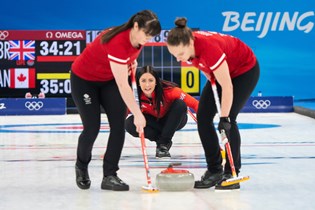 "Obviously we're going to miss the two girls that have stepped away from curling, but Beth's been around the curling scene for a number of years now and I have no doubts that she will fit in very, very well."
Following a highly pressurised 2021/22 campaign, which began with every woman in a nine player British Curling elite squad fighting for selection in the team being sent to the Olympics, Muirhead is looking forward to a four year period in which they can look to build on their new status.
"We are looking forward to a fun season ahead," said the 31-year-old.
"When it's the first season of an Olympic cycle you've always got to look to enjoy it and as a team we'll have a lot of fun as the current European and Olympic champions."
There are no changes to the other women's Podium funded line-up of Rebecca Morrison, Gina Aitken, Sophie Sinclair and Sophie Jackson, while in the men's game European Champions Team Mouat and the team skipped by their Olympic alternate Ross Whyte both remain unchanged.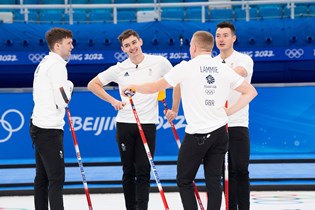 However, the departure from the programme of reigning Scottish champion skip Ross Paterson, along with teammate Duncan Menzies means that 2018 Olympian Kyle Waddell and his younger brother Craig have new teammates in Mark Taylor and Gavin Barr.
"It's been a strange time with Ross retiring and with forming a new team we are starting something fresh with new faces and it is exciting to see where we can go from here," said Kyle.
"Once we are back on ice we will look to see how we can plan our season to ensure we get off to a good start."
Also leaving the programme are current World Junior Champion Niall Ryder, former World Junior Champion Gregor Cannon, Eilidh Yeats, Nicola Joiner and Emma Barr and British Curling's Executive Performance Director Nigel Holl wished them every success in the future.
"We are obviously now seeing a number of athletes making decisions about their future," said Holl.
"Given this is the start of the four year cycle leading into the next Olympic and Paralympics in 2026, that shouldn't surprise anyone.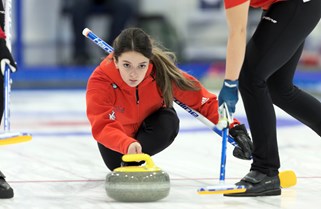 "The commitment required to commit to the British Curling programme is significant and I respect athletes who decide their future is elsewhere, as much as I do those who are able to make that commitment. We wish them all well."
A total of seven new players, three women - Lucy Blair, Holly Hamilton, Alex Mackintosh – along with four men - Mark Taylor, Ross Craik, Struan Carson and Jack Carrick – will join British Curling for the first time, working under British Curling Performance Foundation Manager David Aitken.
"It is great to be able to welcome a number of new players to the programme who will bring fresh energy and enthusiasm as they look to seize the opportunity to join a system that has proven itself to be at the cutting edge of the global game," said Aitken.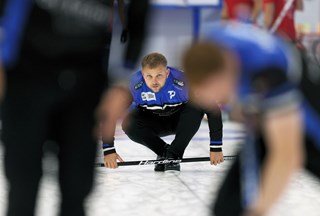 "In doing so they can draw inspiration from the way that Hailey Duff emerged from the Performance Foundation squad only last year to become a gold medallist in Beijing and Beth Farmer's selection to join that Olympic winning team is just the latest evidence of the scale of the opportunity."
Podium Teams
Team Muirhead (Playing order TBC)
Eve Muirhead
Jen Dodds
Hailey Duff
Beth Farmer

Team Morrison
Rebecca Morrison
Gina Aitken
Sophie Sinclair
Sophie Jackson

Team Mouat
Bruce Mouat
Grant Hardie
Bobby Lammie
Hammy McMillan

Team Whyte
Ross Whyte
Robin Brydone
Duncan McFadzean
Euan Kyle

Performance Foundation Teams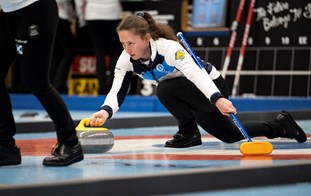 Team Henderson
Fay Henderson
Holly Wilkie-Milne
Robyn Munro
Laura Watt

Team Blair (Playing order TBC)
Lucy Blair
Alex Mackintosh
Holly  Hamilton
Susie Smith

Team Bousie (Playing order TBC)
Kirstin Bousie
Katie McMillan
Lisa Davie
Amy MacDonald

Team Waddell
Kyle Waddell
Craig Waddell
Mark Taylor
Gavin Barr

Team Craik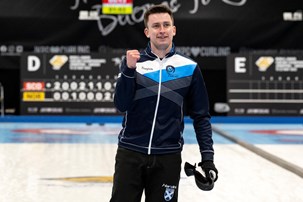 James Craik
Mark Watt
Angus Bryce
Blair Haswell

Team Ross Craik (Playing order TBC)
Ross Craik
Scott Hyslop
Struan Carson
Jack Carrick

Images: PPA/Graeme Hart, Team GB / David Pearce,
WCF / Cheyenne Boone 
#curling