Following their selection to compete at this year's Paralympics in Beijing, four of British Curling's leading wheelchair curlers will continue their preparations in top quality company at the WCT Tallinn Wheelchair International 2022 this week.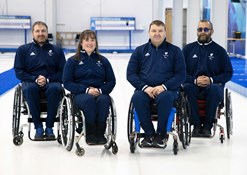 Two-time Paralympian Gregor Ewan and Hugh Nibloe, who made the trip to PyeongChang four years ago, have again been selected for the ParalympicsGB team along with David Melrose and Meggan Dawson Farrell who will both be making their debuts in China.
With the pressure of contending for places now over, British Curling's Paralympic Head Coach Sheila Swan is looking to use this six team event to finalise their preparations as they take on four of the teams they will meet in Beijing – Russia, Sweden, Latvia and Estonia – as well as Finland.
"These players now know they have earned the right to represent ParalympicsGB, but they also know that they need to focus ever harder on the target and in particular, at a time when major curling events continue to be cancelled around the world, seize this chance," she said.
"A great deal of technical and physical work has been done to get them to this stage, so it is now about fine tuning and this event is another opportunity to measure ourselves against some of the very best in the world."
The competition takes place in the Estonian capital from January 7-9.