Fay Henderson led her rink to a fourth successive title when they came from behind to defeat Sweden's Team Foxglide 7-5 at the Asham Under 21 Slam event in Edinburgh.
It continued a sequence that has seen Henderson and teammates Katie McMillan, Lisa Davie and Holly Wilkie-Milne, follow victories on the European Junior Curling Tour (EJCT) in Switzerland and Prague, with successes on the domestic scene at Greenacres and now Murrayfield in the past month and the 19-year-old skip was naturally satisfied with their latest win.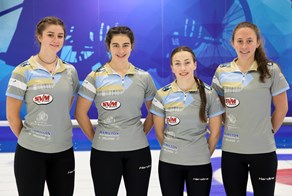 "That was another really good weekend," said Henderson.
"Going undefeated through the round-robin was ideal, but the final against Team Foxglide from Sweden was a tough game. They really challenged us and there were a few times in the game that we were trailing which meant we had to fight back and work together as a team which we did really well and we managed to pull out a win."
The young Scots scored two at the opening end, but found themselves trailing 5-3 after five ends before turning things around.
"I couldn't have asked for any more from the girls," said Henderson.
"We had a few chances and in the sixth end we managed to score a three, which changed the game completely with the momentum swinging in our favour and we went from there.
"We didn't give them many mistakes from there onwards, which meant we controlled the last couple of ends."
She believes they are constantly learning from their experiences and is now looking forward to getting a chance to analyse what has brought their success in recent weeks, as well as what they still need to work on as they prepare for their next overseas trip.
"We've learned a lot from playing at home and abroad this season," Henderson observed.
"Playing against a lot of people with different styles of game has been really good for our development and it's allowed us to strengthen and develop our own style of game in confidence that we can play the shots we need to and stick to what we want to do and see out games.
"Our next event is in Oslo for another EJCT after a week off which we'll use for training and to develop a few more things as we look to progress, but going undefeated this weekend was perfect."
Team Henderson
Fay Henderson
Katie McMillan
Lisa Davie
Holly Wilkie-Milne