After claiming their first title win of the season on the domestic junior circuit last weekend, Team Craik are stepping things up this weekend with a trip overseas to test themselves at senior level.
The youngsters are part of a four-strong Scottish challenge at the Champery Masters - along with Grand Slam winners Team Paterson, as well as Team Watt and Team Bryce - and their skip James Craik is hoping to draw inspiration from a venue where his younger brother Ross experienced one of his career highlights.
"It's great to be traveling again and going to Champéry is a place I am really excited to return to," he said.
"It's a stunning town that I was able to visit before when my brother was at the Youth Olympic Games last year and have been wanting to go back ever since.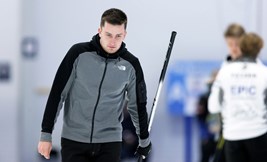 "The field is really strong and we are keen to get on the ice and try to battle it out against some of the top European teams."
Craik and teammates Angus Bryce, Scott Hyslop and Niall Ryder performed well at senior level in the opening event of the season on home ice when they were up against top class opposition.
"We got a taste of this at the Euro Super Series in Stirling in September where we won three of our five games, beating national teams from the Netherlands and Germany as well as Team Whyte and we are now more than determined to show our improvement over the past month and better our previous performances this weekend," said Craik.
"It's going to be nice to compete alongside other Scottish teams out in Switzerland and have some familiar faces and friends on the ice beside us representing British Curling.
"We can't wait to get out there and kick off the competition on Thursday night and see what we can do."
They have been drawn in the same round robin pool as Team Bryce this time around.
Team Paterson head to the event on the back of reaching the play-offs at last week's Swiss Cup in Basel, where Team Watt were also in action.
"We had a good event in Basel and were happy at where our performance level was at in our first three games, which left us disappointed with a quarter-final finish," said Kyle Waddell, who is skipping Team Paterson this season.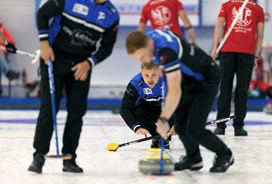 "Overall though, I feel we have made good progress from our previous events."
He is hoping they now reap the benefit of an extended stay in Switzerland as they target this event while also seeking to prepare for the first Grand Slam of the season where they will be among three Scottish teams heading to Canada next week, along with Team Mouat and Team Whyte.

"We made the decision to stay out here between events, which I think was definitely the right one," he said.
"We have had two days of good practice on good ice, which is not only good preparation for Champery but for the Slam too. In some ways it's felt like a mini training camp.
"We are looking forward to Champery, we haven't played the event in a few years, I know Ross (Paterson) has won the event previously and all of us have played it before. I am confident we improve on our performances in Basel and we will see what happens."