GB Blue claimed the first automatic place in the semi-finals of the inaugural Euro Super Series at the National Curling Academy in Stirling after completing their round-robin campaign with a perfect record of five successive wins.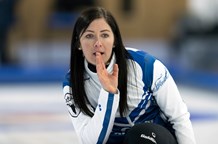 They completed their run with a 7-4 win over a Swedish rink led by former world junior champion Isabella Wrana, who have also earned a place in the play-offs and three-time Olympian Eve Muirhead expressed satisfaction with the performance.
"We're pleased. We played well. Getting a four at the first end always puts you on the front foot and we capitalised on that, so being the first team to make it into the semi-finals is great. I'm really pleased with the girls and how we played as a team," she said.
British Curling's experimental approach in creating a nine-player elite squad of players vying for places at the forthcoming Winter Olympic qualifying tournament was further vindicated when GB Red also made it into the play-offs and former world champion skip Muirhead acknowledged that it had been a useful exercise.
"We obviously haven't managed to get any consistency within a particular line-up, but that's the whole point in changing to figure out what the best combination of player is. It has worked this week, so that's good," she said.
"We're really looking forward to the quarter-finals. On our home rink it's great to do well, especially when it's the first international event here and the first international event for a long time, it's nice."
The play-offs will also feature reigning Sweden's Olympic champions Team Hasselborg, who beat GB Red in their final round-robin match and Switzerland's Team Tirinzoni, whose only loss in the round-robin was to Muirhead's GB Blue team.
British Curling's first international event will feature on BBC Sport Scotland online and BBC iPlayer sport this weekend as the sport's men's and women's teams make their first competitive outing on home ice.  
The men's semi final featuring Ross Whyte and the women's semi final featuring Eve Muirhead will be broadcast on BBC Sport online and one of the finals will also be broadcast on Sunday on the same channel. It will be the fifth time in the last year that the BBC has picked up coverage of competitions set up by British Curling.
This international event has also been live streamed every day on the innovative Recast channel which will also show tomorrow's quarter finals as well as the other semi final and final not broadcast by BBC Sport Scotland online.

British Curling's Recast Channel:  https://share.recast.app/u/64jxA?referrer=64jxA
Euro Super Series Results
Draw 1
Watt v De Cruz (EE) 6-7
Bryce v Paterson 2-4
Witschonke v Jentsch 4-5
GB Red v MacDonald 8-3

Draw 2
Craik v Edin 3-6
Totzek v Whyte 2-7
Farmer v GB Blue 1-11
Wrana v Henderson 8-3

Draw 3
Mouat v Team Italy (EE) 7-8
MacDonald v Jentsch 10-4
Paterson v Watt 6-5
Schori v Hasselborg 5-4

Draw 4
Schwaller v Van Dorp 6-1
Henderson v GB Blue 3-8
Whyte v Craik 4-5
Munro v Tirinzoni 2-10
Draw 5
Jenstch v Schori* 5-6
Mouat v Watt 7-4
Team Italy v Paterson* (EE) 6-5
Draw 6
GB Blue v Munro* 8-1
Schwaller v Craik 7-2
Tirinzoni v Henderson 6-1
Van Dorp v Whyte* (EE) 7-8

Draw 7
Witschonke v GB Red* (EE) 4-5
De Cruz v Bryce* 11-2
Hasselborg v MacDonald 10-3

Draw 8
Farmer v Wrana 3-11
Edin v Totzek 6-3

Draw 9
Hasselborg v Witschonke (EE) 5-4
Team Italy v De Cruz 6-4
GB Red v Schori 7-3
Bryce v Mouat 2-4

Draw 10
Tirinzoni v Farmer 5-3
Van Dorp v Edin 5-6
Wrana v Munro 13-0
Totzek v Schwaller 3-6

Draw 11
Schori v MacDonald 5-8
Paterson v Mouat 5-7
Jenstch v Hasselborg 7-6
Watt v Team Italy 1-8

Draw 12
Munro v Henderson 4-7
Whyte v Schwaller*(EE) 4-3
GB Blue v Tirinzoni*(EE) 8-7
Craik v Van Dorp 8-5

Draw 13
De Cruz v Paterson 7-2
Watt v Bryce 8-5
MacDonald v Witschonkie 3-9
Jenstch v GB Red 7-4
Draw 14
Edin v Whyte 3-4
Craik v Totzek 6-5
Henderson v Farmer 5-4
GB Blue v Wrana 7-4

Draw 15
Team Italy v Bryce 5-3
GB Red v Hasselborg 5-7
Mouat v De Cruz 5-6
Witschonke v Schori 10-3

Draw 16
Van Dorp v Totzek 5-3
Wrana v Tirinzoni 4-5
Schwaller v Edin 7-3
Farmer v Munro 7-6
Draw 17 09.00
Men's & Women's Quarter Finals

Draw 18 13.30
Men's Semi Finals

Draw 19 17.30
Women's Semi Finals

Draw 20 09.00
Women's Final
Men's Final