After a roller-coaster season, Fay Henderson is hoping to end 2021/22 on a high when she leads her team into action at the World Junior Championships in Sweden (May 15-22).
The Scottish line-up of Henderson, Katie McMillan, Lisa Davie, Holly Wilkie-Milne and alternate Robyn Mitchell ultimately gained a fortuitous place in the event after Russia were expelled from the competition and two other countries, ranked ahead of Scotland on the basis of performances the last time the event was held, were unable to accept invitations to replace them.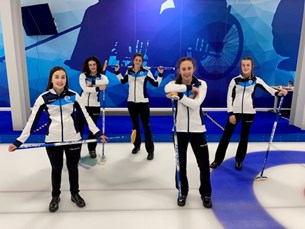 Team Henderson had, though, given every indication that they would earn their place in Jönköping with a succession of wins at events at home and abroad, before victory at the Scottish Junior Championships earned them a place in the World Junior B Championships where they could have gained promotion to the main event.
The cancellation of that competition was one of a serious of bitterly disappointing setbacks for their skip, who had also been selected for the World University Games, which was also cancelled, then was chosen as the fifth player for Scotland at the World Women's Championships in Canada, only for them to be forced to withdraw after the event was underway because a number of team members contracted COVID.
The 20-year-old is consequently entitled to be excited to have arrived at a major international event primed for action.
"It's been great to get to the World Juniors through the last possible way," said Henderson.
"After the cancellation of the World Junior Bs it was quite disappointing because we worked hard looking towards coming to this event, so it was quite tough for the whole team to take when that was cancelled.
"After all those setbacks, it's a real silver lining to be able to able to be here and hopefully be able to show everyone that we can compete at this level."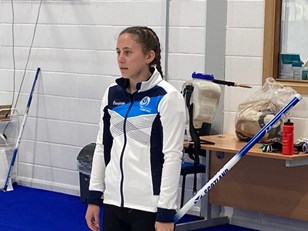 Having worked closely with members of the senior British Curling squad, she is feeding off the stellar successes enjoyed by the programme's athletes throughout this season and knowing that she and her teammates have access to the same facilities and expertise.
"We've had the NCA open until this week which has been ideal for training," Henderson noted.
"A lot of the teams that have trained in the National Curling Academy this season have done well, at the Olympics, World Championships and European Championships, so I think we can take that as inspiration because it's shown that curling in Scotland is at such a high level thanks to all the training we've had."
However, they can also draw confidence from their own performances throughout the season.
"We have played quite a lot of junior events and done quite well, so hopefully we can just keep that going here," said the skip.
"We've played against a couple of the teams here and have competed well and we've prepared quite well in the last couple of weeks since I came back from Canada.
"We've put in the effort in a lot of training sessions together to brush up on a few things which has hopefully really helped us."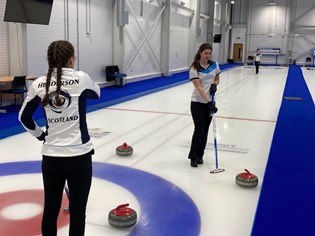 The participating teams in the women's field are: Canada (reigning champions), Denmark, Japan, Korea, Latvia, Norway, Scotland, Sweden, Switzerland and United States
Round-robin play starts on Sunday 15 May and continues until Friday 20 May. The top four teams in the round-robin rankings qualify for the semi-finals in both genders.
For junior women and men, one semi-final will be played between the first and fourth ranked teams, while the other semi-final will be held between the second and third ranked teams.
Live games will be available to watch through The Curling Channel in partnership with Recast.
Scotland – Team Henderson
Fay Henderson
Katie McMillan
Lisa Davie
Holly Wilkie-Milne
Robyn Mitchell
Scotland – Team Craik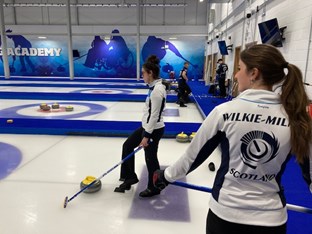 James Craik
Angus Bryce
Scott Hyslop
Niall Ryder
Jack Carrick
Sunday 15 May  (all times BST)
Scotland – Korea (men) – 8.00am
Scotland – Canada (women) – 1.00pm
Scotland – USA (men) 6.00pm

Monday 16 May
Scotland – USA (women) – 8.00am
Scotland – New Zealand (men) – 1.00pm
Scotland – Switzerland (women) – 6.00pm

Tuesday 17 May
Scotland – Germany (men) – 8.00am
Scotland – Japan (women) – 1.00pm
Scotland – Italy (men) – 6.00pm

Wednesday 18 May
Scotland – Norway (women) – 8.00am
Scotland – Canada (men) – 1.00pm
Scotland – Latvia (women) – 6.00pm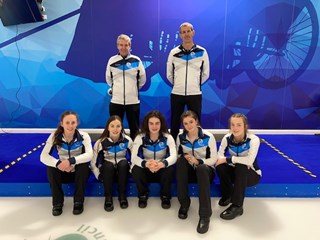 Thursday 19 May
Scotland – Norway (men) – 8.00am
Scotland – Korea (women) – 1.00pm
Scotland – Sweden (men) – 6.00pm

Friday 20 May
Scotland – Sweden (women) – 8.00am
Scotland – Switzerland (men) – 1.00pm
Scotland – Denmark (women) -  6.00pm
Saturday 21 May
Men's Semi Final – 1.00pm
Women's Semi Final – 6.00pm

Sunday 22 May
Men's Finals - 8.00am
Women's Finals - 1.00pm
#curling #WJCC2022