Tournament victories at home and abroad represent the perfect start to the junior season for Team Henderson, according to their skip.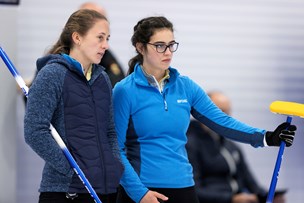 Fay Henderson and teammates Katie McMillan, Lisa Davie and Hollie Wilkie-Milne maintained the excellent form they demonstrated in winning their first European Junior Curling Tour (EJTC) title in St Galen the previous weekend, when they won all five of their matches at last weekend's Greenacres Junior Masters to take the title and Henderson is drawing considerable encouragement from that.
"Getting two wins back-to-back early on in the season is great for us, because it means we know the training throughout the summer has really benefited us and put us in a good place," she said.
Having started their competitive season at the Euro Super Series event in the National Curling Academy (NCA), mixing with Olympic and World champions and performing creditably in registering two wins in their five matches, the teenage skip believes they have benefited hugely from working alongside senior players in Stirling.
"Competing in the NCA's helped a lot because we've always been the youngest and least experienced, so we've always been playing teams that bit better than us," she said.
"That has made us really up our standards and learn to stick in together as a team when we are down, so that if we have a bad end or two we know how to pick each other up and bounce back and I think this will help a lot with our international curling."
She is aware that their wins will have raised their profile ahead of their next overseas assignment and is determined to maintain the momentum as they head for the Czech Republic for their next event.
"Next we're heading out to the EJTC in Prague next week. We're really looking forward to that and hopefully we can put in another good performance there," said Henderson.
"Hopefully we can just build on this early season form and continue into the rest of the season. Obviously, it does put a bit of a target on our backs, but if we can all step up to the challenge I think it's important that we've had this good start to help our confidence going forward."