Rebecca Morrison's women made an encouraging start to their Le Gruyere AOP European Championship campaign, before suffering a narrow defeat to defending champions Denmark in their second match of a challenging opening day at Curl Aberdeen.
Having added Olympic champion Jen Dodds to their ranks since winning a bronze medal at this event a year ago, the five player team went into the event in their skip's home city in confident mood and that showed as they registered an 8-4 win over Turkiye in their opening match.  
Morrison, Dodds, Gina Aitken and Sophie Jackson controlled the match throughout, moving into a 4-0 lead after three ends and maintained their advantage throughout.
"We were delighted to get the win on the board this morning," said their skip.
"It always settles you in when you win your first game at a championship, so we're feeling good about today."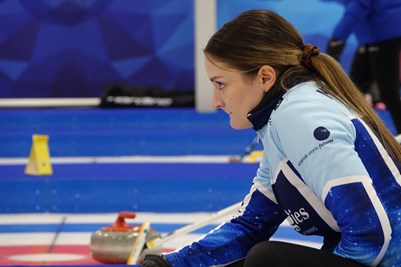 Sinclair then replaced Aitken in their second match as they took on last year's winners and they again started well, establishing a 4-2 lead after three ends, before suffering a major setback when they conceded a five at the fourth end.
Morrison was pleased with the way her team responded to that, however and again when they conceded a steal of two at the seventh end to fall 10-6 behind with just three ends to play. 
A two at the eighth and a steal at the ninth then saw them apply substantial pressure, but the Danes held on to take the match 11-9.
"When we lost the five we were still only three down and if we'd been three down and hadn't lost a five we wouldn't be feeling like the game was over, so we never got our heads down over that, we kept fighting," said Morrison.
"None of us felt down about it. We were all actually playing well throughout that game. It was just a few shots here and there that cost us a five and the steal of two.
"We were punished pretty hard considering how we were playing and it's not a reflection of the game, so we're still feeling good."
They will now look to re-group overnight ahead of a meeting with Olympic mixed doubles champion Stefania Constantini's Italians who had a similar opening day,, losing to Germany before beating the Turks.
"It's always nice to get a win when you only have a one game day, so we'll fuel ourselves up in the morning and we'll be raring to go come the afternoon," said Morrison.
"I don't think we've played them this season and we had a mixed bag against them last season, so we'd just like to get off to a good head-to-head start against them this time around."
The top eight men's and women's teams at these Championships, which take place from November 18-25 will qualify for the World Championships later this season.
The BKT Tires World Women's Curling Championship 2024 will be hosted in Sydney, Nova Scotia, Canada in March 2024 and the LGT World Men's Curling Championship 2024 will take place in Schaffhausen, Switzerland in April 2024.
Games will be broadcast on Recast available on The Curling Channel. 
The following games will be available on the BBC Sport website, app and BBC iPlayer.
Sunday 19 November
Scotland men v Sweden (0900)
Scotland women v Italy (1400)
Monday 20 November
Scotland women v Sweden (1600)
Scotland men v Switzerland (1200)
Tuesday 21 November
Scotland women v Germany (0900) & Switzerland (1900)
Wednesday 22 November
Scotland men v Netherlands (0900)
Thursday 23 November
Scotland women v Norway (0900)

Play-offs and medal matches - TBC.

Scotland Schedule:
Saturday 18 November
Women's Round Robin Session 1
Scotland v Turkiye 8-4

Men's Round Robin Session 1
Scotland v Norway 5-3

Women's Round Robin Session 2
Scotland v Denmark 9-11

Sunday 19 November
Men's Round Robin Session 2 – 09.00
Scotland v Sweden

Women's Round Robin Session 3 – 14.00
Scotland v Italy

Men's Round Robin Session 3 – 19.00
Scotland v Czechia
Monday 20 November
Women's Round Robin Session 4 – 08.00
Scotland v Czechia
Men's Round Robin Session 4 – 12.00
Scotland v Switzerland

Women's Round Robin Session 5 – 16.00
Scotland v Sweden

Men's Round Robin Session 5 – 20.00
Scotland v Germany

Tuesday 21 November
Women's Round Robin Session 6 – 09.00
Scotland v Germany

Men's Round Robin Session 6 – 14.00
Scotland v Italy

Women's Round Robin Session 7 – 19.00
Scotland v Switzerland

Wednesday 22 November
Men's Round Robin Session 7 – 09.00
Scotland v Netherlands

Women's Round Robin Session 8 – 14.00
Scotland v Estonia

Men's Round Robin Session 8 – 19.00
Scotland v Turkiye

Thursday 23 November
Women's Round Robin Session 9 – 09.00
Scotland v Norway

Men's Round Robin Session 9 – 14.00
Scotland v Finland

Women's Semi Finals – 19.00

Friday 24 November
Men's Semi Finals – 09.00

Women's Bronze Medal Game – 14.00
Men's Bronze Medal Game – 19.00

Saturday 25 November
Women's Gold Medal Game – 09.00
Men's Gold Medal Game – 14.00
Scotland Women
Rebecca Morrison
Jennifer Dodds
Gina Aitken
Sophie Jackson
Sophie Sinclair
Coach: Ross Paterson

Scotland Men
Bruce Mouat
Grant Hardie
Bobby Lammie
Hammy McMillan
Kyle Waddell
Coach: Michael Goodfellow
#curling