Scotland's Team Morrison battled to the end, but were ultimately squeezed out 7-6 by an Italian quartet led by Olympic mixed doubles champion Stefania Constantini in their only match of the second day in the women's event at the Le Gruyere AOP European Curling Championships at Curl Aberdeen.
Starting without the hammer, Rebecca Morrison, Jen Dodds, Gina Aitken and Sophie Jackson had the better of the first half of what was always a close fought contest and took the lead at the midway break when a double takeout by their skip earned them a three.
They then forced their opponents at the next to briefly gain the initiative, but an Italian steal at the next edged them back in front and, crucially after forcing the Scots, they got their two at the ninth which proved sufficient to get them home.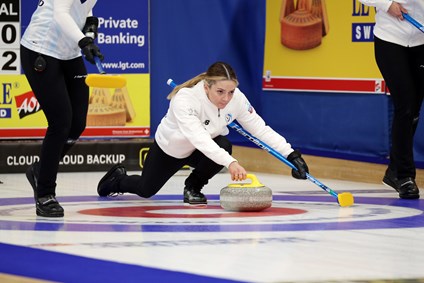 It was a disappointing defeat for the host nation's representatives, but after going toe-to-toe with opponents who are above them in the world rankings, they were by no means despondent.
"Whilst they are a higher ranked team I think we were expecting a closer game today," said skip Morrison.
"We had a few close misses here and there and we could have turned that around.
"Even with our last shot there it felt like we were millimetres from getting the extra end there, so it is tough to take but we are looking forward to redeeming ourselves tomorrow."
Playing at the club in which she learned to play the game, Morrison said they had found conditions trickier than on the opening day, but acknowledged that they have to deal with whatever they encounter.
"I definitely think the ice was more testing at the start," she said. 
"Yesterday out there we were totally on top of the draws and today we just didn't read the ice as well.
"The ice was still great though and we can't use that as an excuse. We just didn't get on top of it as well today and some days it's just like that. Sometimes it is more challenging and we just need to assess why that was and come back tomorrow fighting.
"It was a bit of a roller coaster out there today and it felt like a long game and we just need to get our heads together for a two game day tomorrow."
Having won a bronze medal on her debut at the Europeans last year, she remains confident of once again getting through to the play-offs and contending for honours.
"If we continue now with just two losses then we make the play-offs no problem, so we just want to keep on winning from here on in," said Morrison. 
"It's a long week, but it is great knowing that the crowd out there is behind us especially when I made that shot for a three in the fifth end.
"The cheers were great and it lifted our spirits so it is lovely knowing that everyone out there is rooting for us and that really helps."
Day three will see them face the Czechia and Sweden.
The top eight men's and women's teams at these Championships, which take place from November 18-25 will qualify for the World Championships later this season.
The BKT Tires World Women's Curling Championship 2024 will be hosted in Sydney, Nova Scotia, Canada in March 2024 and the LGT World Men's Curling Championship 2024 will take place in Schaffhausen, Switzerland in April 2024.
Games will be broadcast on Recast available on The Curling Channel. 
The following games will be available on the BBC Sport website, app and BBC iPlayer. 
Monday 20 November
Scotland women v Sweden (1600)
Scotland men v Switzerland (1200)
Tuesday 21 November
Scotland women v Germany (0900) & Switzerland (1900)
Wednesday 22 November
Scotland men v Netherlands (0900)
Thursday 23 November
Scotland women v Norway (0900)

Play-offs and medal matches - TBC.

Scotland Schedule & Results:
Saturday 18 November
Women's Round Robin Session 1
Scotland v Turkiye 8-4

Men's Round Robin Session 1
Scotland v Norway 5-3

Women's Round Robin Session 2
Scotland v Denmark 9-11

Sunday 19 November
Men's Round Robin Session 2
Scotland v Sweden 5-8

Women's Round Robin Session 3
Scotland v Italy 6-7

Men's Round Robin Session 3 – 19.00
Scotland v Czechia
Monday 20 November
Women's Round Robin Session 4 – 08.00
Scotland v Czechia
Men's Round Robin Session 4 – 12.00
Scotland v Switzerland

Women's Round Robin Session 5 – 16.00
Scotland v Sweden

Men's Round Robin Session 5 – 20.00
Scotland v Germany

Tuesday 21 November
Women's Round Robin Session 6 – 09.00
Scotland v Germany

Men's Round Robin Session 6 – 14.00
Scotland v Italy

Women's Round Robin Session 7 – 19.00
Scotland v Switzerland

Wednesday 22 November
Men's Round Robin Session 7 – 09.00
Scotland v Netherlands

Women's Round Robin Session 8 – 14.00
Scotland v Estonia

Men's Round Robin Session 8 – 19.00
Scotland v Turkiye

Thursday 23 November
Women's Round Robin Session 9 – 09.00
Scotland v Norway

Men's Round Robin Session 9 – 14.00
Scotland v Finland

Women's Semi Finals – 19.00

Friday 24 November
Men's Semi Finals – 09.00

Women's Bronze Medal Game – 14.00
Men's Bronze Medal Game – 19.00

Saturday 25 November
Women's Gold Medal Game – 09.00
Men's Gold Medal Game – 14.00
Scotland Women
Rebecca Morrison
Jennifer Dodds
Gina Aitken
Sophie Jackson
Sophie Sinclair
Coach: Ross Paterson

Scotland Men
Bruce Mouat
Grant Hardie
Bobby Lammie
Hammy McMillan
Kyle Waddell
Coach: Michael Goodfellow
#curling #ECC2023

Image: WCF