Having ended last season in spectacular fashion Bruce Mouat and his teammates were given a freezing cold reminder of the reality of top flight curling action when they were beaten by Team Italy in their opening match of the Euro Super Series at the National Curling Academy (NCA) in Stirling last night.
Mouat, Grant Hardie, Bobby Lammie and Hammy McMillan claimed a silver medal at the World Championships in Calgary before going on to claim Grand Slam titles on successive weekends and the skip then paired up with Jen Dodds to round off the COVID blighted campaign in excellent form when they became the first Scots to win the World Mixed Doubles Championships.
However, after moving into an early lead, they were out-manoeuvred by the Italian line-up skipped by Joel Retornaz, who held his nerve impressively to deliver a nose hit which secured an extra end 7-6 win and Mouat admitted it had been a painful lesson.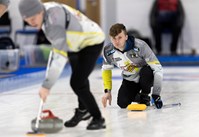 "Having the loss in our first game isn't ideal for us but moving forward we'll learn a lot from it," he said.
"We always knew the Italian boys were going to be strong. We played them at the Worlds and had close games with them there and we've had close games with them over the past three or four years we've had together as a team.
"But in saying that, it's a disappointing loss we've just faced there and we're going to have to bounce back."
Having dominated against domestic opposition, winning every tournament staged in the NCA last season, they remain determined to assert themselves over the course of the week in this high quality field.
"We definitely want to win this event. It almost feels like a mini European Championships, just because there's so much depth in Europe now that we know every time you play in these sort of events we'll have to play well and we're going to have to step it up a few gears if we're going to want to play in the final on Sunday," said Mouat.
"We had some nice moments today, like taking a three at the first. Sometimes we start slowly, but it seemed today that we started pretty quickly. So we'll take that and just try to figure out the middle of the game and try to make sure we're strong throughout."
At the start of a season that will include the Winter Olympics, Mouat feels it is useful to be starting as they have to go on, though, noting that: "We've got quite an exciting season ahead of us potentially, so we're going to be putting everything into it and this event is a great way to start off a season like this."
There were wins for fellow Scots Team Whyte and Team Paterson on the opening day of the round-robin section, as well as for Switzerland's World Championship bronze medallists Team De Cruz, while reigning World and European champion Niklas Edin put the coming season into perspective after opening with a solid 6-3 victory over James Craik's up and coming Scottish rink.
The Swede's collection of trophies includes record hauls of World and European titles - five and seven respectively – but having suffered the disappointment of defeat in the last Winter Olympic final, he is very clear about this season's priority.
"Especially in a small sport like curling that is on the Olympic programme, the Olympics makes such a big difference," he said.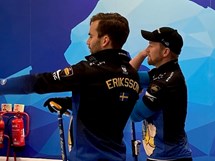 "It doesn't really matter how many titles you've got unless you've got that Olympic gold you're kind of not relevant outside of the curling world, so for our team to really set our legacy in this sport we need to win the Olympic gold.
"All the other championships and titles we have are really important for us and within curling it's really huge still, so we're still going to be proud of what we've done, but we want to top it off with an Olympic gold. That would make it so much better."
While in some eyes he may be approaching veteran status after a decade of domination of the European scene, Edin offered an ominous warning, however, that his enjoyment of his sport is such that he does not anticipate retiring from the sport any time soon, regardless of what happens in Beijing this winter.
"This is too much fun," he said.
"I'm actually more healthy and almost injury free now. I always have a little something on my back, but no major injuries, and looking at most of the top curlers winning the big titles, they usually start to get really, really good around 35 and that's the age I am, so I think I'm just peaking.
"The last couple of years I think physically and mentally it feels like I'm beginning to peak now… and with a lot of injuries and surgeries I might have pushed that back and I might even peak a little bit later than it would have been without all the injuries and more training and putting more stress on my body. So, I might have saved a couple of years because of that.
"Obviously every Olympic cycle is new and it's four years or nothing at all, so I think it's still a big decision to come after these Olympics. It depends how we do and how the whole team feels. A lot of stuff goes into it, but I hope for at least another Olympic cycle. That would be cool."
In the shorter term, Edin said that he and his teammates are focused on finding their rhythm this week and that winning this inaugural European Super Series event would be a bonus at this stage in the season, while he believes that Team Mouat have a considerable advantage in playing at the venue where they train year round.
"It is like stadium ice here and I hope we'll play a lot more competitions here, but I can now see why they play the way they do," he said.
"They have to be considered favourites, especially in these conditions. It's their bread and butter and they make a lot of their style of shot, the softer run backs. It's the kind of style we need to play here too, but they play a lot more of that, so hopefully we can keep making those kind of calls and keep making a lot of shots.
"This early in the season, though, we normally just look for playing well and communicating well. So we want to get in tune for what we want to see heading into the Slams and the European Championships."
In the women's event the experimental GB Blue and Red teams both secured comfortable wins in their opening matches while, after losing to the GB Red line-up that is being skipped by Rebecca Morrison, fellow Scots Team MacDonald bounced back brilliantly to claim a fine 10-4 victory over Germany's Team Jentsch and Sweden's Olympic champions Team Hasselborg suffered a shock early defeat at the hands of Switzerland's Team Schori.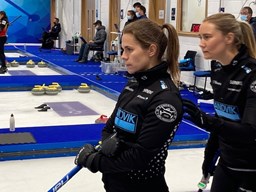 Matches are being live streamed every day on British Curling's Recast Channel:  https://share.recast.app/u/64jxA?referrer=64jxA
ESS Day 1 Results:
Draw 1
Watt v De Cruz (EE) 6-7
Bryce v Paterson 2-4
Witschonke v Jentsch 4-5
GB Red v MacDonald 8-3
Line scores: @CurlingZone

Draw 2
Craik v Edin 3-6
Totzek v Whyte 2-7
Farmer v GB Blue 1-11
Wrana v Henderson 8-3

Draw 3
Mouat v Team Italy (EE) 7-8
MacDonald v Jentsch 10-4
Paterson v Watt 6-5
Schori v Hasselborg 5-4

Draw 4 
Schwaller v Van Dorp 6-1
Henderson v GB Blue 3-8
Whyte v Craik 4-5
Munro v Tirinzoni 2-10

Line scores: @CurlingZone
#curling #EuroSuperSeries