Bruce Mouat casually slipped his hand into his pocket as he gently pursued his decisive shot down the ice in the knowledge that he had just secured a hard-earned victory over the Czech Republic for his team at the end of a challenging day for the World champions as they continued their defence of the Le Gruyere AOP European Championship title at Curl Aberdeen.
Earlier, Mouat, Grant Hardie, Bobby Lammie and Hammy McMillan  had suffered a disappointing defeat to arch-rivals Team Edin, the six-time World and seven-time European champions from Sweden, after conceding a four at the opening end, from which it was all-but impossible to recover.
"That was down to a really bad end from me at the first, getting a bit unlucky with my first and leaving myself with a lot of work to do with my second," said the Scotland skip, shouldering the responsibility for the 8-5 loss.
They were also behind most of the way against the Czechs in their evening clash and took time to get the upper hand, but Mouat's demeanour as he produced that winning delivery, having to draw into the eight-foot rings to secure the win, indicated how much their confidence had been restored by the end of the day's play.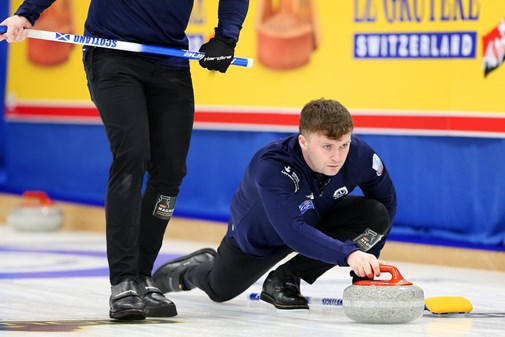 "Every game we're playing this week is going to be tough, with pretty tricky ice, so we knew we were going to have to play well and we just didn't start that well," he said after that 6-5 defeat of the Czechs, however.
"We struggled to get on top of things, but once we figured out the ice we knew we were in a better spot.
"The Czechs beat Sweden yesterday, so we were coming into the game a bit wary that they have a good game in them, and didn't under-estimate them.
"Once we stole in eight we felt we were in control after that, but before that it was pretty tense and it's going to be like that the whole way if you're losing a two at the first end."
The Scots now face two more games on day three, the first against another of their major rivals of recent years, Switzerland's Team Schwaller, before they then meet Sixten Totzek's Germans who have made a highly impressive start, winning all three of their matches so far to sit top of the rankings alongside world number one ranked Italy. 
The top eight men's and women's teams at these Championships, which take place from November 18-25 will qualify for the World Championships later this season.
The BKT Tires World Women's Curling Championship 2024 will be hosted in Sydney, Nova Scotia, Canada in March 2024 and the LGT World Men's Curling Championship 2024 will take place in Schaffhausen, Switzerland in April 2024.
Games will be broadcast on Recast available on The Curling Channel
The following games will be available on the BBC Sport website, app and BBC iPlayer 
Monday 20 November
Scotland women v Sweden (1600)
Scotland men v Switzerland (1200)
Tuesday 21 November
Scotland women v Germany (0900) & Switzerland (1900)
Wednesday 22 November
Scotland men v Netherlands (0900)
Thursday 23 November
Scotland women v Norway (0900)

Play-offs and medal matches - TBC.

Scotland Schedule:
Saturday 18 November
Women's Round Robin Session 1
Scotland v Turkiye 8-4

Men's Round Robin Session 1
Scotland v Norway 5-3

Women's Round Robin Session 2
Scotland v Denmark 9-11

Sunday 19 November
Men's Round Robin Session 2
Scotland v Sweden 5-8

Women's Round Robin Session 3
Scotland v Italy 6-7

Men's Round Robin Session 3
Scotland v Czechia 6-5
Monday 20 November
Women's Round Robin Session 4 – 08.00
Scotland v Czechia
Men's Round Robin Session 4 – 12.00
Scotland v Switzerland

Women's Round Robin Session 5 – 16.00
Scotland v Sweden

Men's Round Robin Session 5 – 20.00
Scotland v Germany

Tuesday 21 November
Women's Round Robin Session 6 – 09.00
Scotland v Germany

Men's Round Robin Session 6 – 14.00
Scotland v Italy

Women's Round Robin Session 7 – 19.00
Scotland v Switzerland

Wednesday 22 November
Men's Round Robin Session 7 – 09.00
Scotland v Netherlands

Women's Round Robin Session 8 – 14.00
Scotland v Estonia

Men's Round Robin Session 8 – 19.00
Scotland v Turkiye

Thursday 23 November
Women's Round Robin Session 9 – 09.00
Scotland v Norway

Men's Round Robin Session 9 – 14.00
Scotland v Finland

Women's Semi Finals – 19.00

Friday 24 November
Men's Semi Finals – 09.00

Women's Bronze Medal Game – 14.00
Men's Bronze Medal Game – 19.00

Saturday 25 November
Women's Gold Medal Game – 09.00
Men's Gold Medal Game – 14.00
Scotland Women
Rebecca Morrison
Jennifer Dodds
Gina Aitken
Sophie Jackson
Sophie Sinclair
Coach: Ross Paterson

Scotland Men
Bruce Mouat
Grant Hardie
Bobby Lammie
Hammy McMillan
Kyle Waddell
Coach: Michael Goodfellow
#curling #ECC2023

Image: WCF