Three-time Grand Slam champions Team Mouat claimed an important win over domestic rivals Team Paterson at the Euro Super Series to move to the brink of a play-off spot in this inaugural event at the National Curling Academy.
In a meeting of the only men's Scottish teams ever to have won Grand Slam tournaments in Canada, a steal at the second end gave them a two shot advantage and after they manufactured, then took the chance to register a four at the fourth end, it was essentially down to scoreboard management and they ultimately ran out 7-5 winners.
"There's always a bit of rivalry with Team Paterson and there has been over the last three or four years, so it's nice to come away with a win," their skip Bruce Mouat said afterwards.
"If you want to represent Scotland or Great Britain you have to beat the other domestic teams, so these games are always quite intense and we enjoy playing teams like Whyte and Paterson and putting out good performances when we do."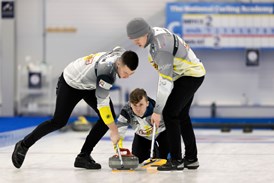 Having suffered a defeat in their opening match against Joel Retornaz's Italians, they left themselves with no room for error in the remainder of the round-robin section and the World Championship silver medallists face a challenging last match to be sure of their spot in the play-offs when they meet Team De Cruz, who claimed the bronze at those Worlds.
"We've taken a few games to get there, but it's nice to see that we're now making a lot of shots and we're hopefully going to be in some sort of good form towards the end of the weekend. We're taking one game at a time right now, though, because we're three and one and probably need another win just to make sure we're qualified," Mouat noted.
He believes that they are beginning to see some of the benefits of the pre-season work they have put in as they bid to become even better than they were when reaching the World Championship final, then winning back-to-back Grand Slams at the end of last season.
"We're getting to a point where we're getting a grip of the ice and getting back into our communication and team dynamics and all those things that are key to winning games. Hopefully we'll be able to continue that, if not improve that towards the play-offs," said Mouat.
"We took two months off, then had a month and a half of training before this event. We've been working on technical stuff because we're always trying to find that one or two per cent I suppose. So it's maybe going to take a wee bit to find the form we were in at the end of last season, but we're getting to a point that we're comfortable with the changes we're making and hopefully that's going to make us even better than we were then."
Team Paterson also face Switzerland's Team De Cruz tomorrow and will have to win that match to reach the play-offs in their first event with a new line-up following the retirement of their lead, 2014 Winter Olympic silver medallist Michael Goodfellow and his replacement Craig Waddell, whose older brother (Kyle) is now calling the shots for the team.
"We made a decision in the summer, obviously with Mikey (Michael Goodfellow) retiring we brought Craig in as the most obvious replacement. After that we all spoke and we felt that the best thing for the team was to let me call the game and Ross to do what he does best and make the four foot for the games and that is hopefully what we will see," Kyle Waddell explained.
"We believe Craig is the best lead we can bring in to the team and he brings good tactical knowledge, he is a good sweeper and knows us really well so that dynamic doesn't really need to be worked on.
"He brings a personality that we need in the team – it will help spur us on. We have Oakville next up with world ranking points up for grabs and that is one of our goals this year to compete on tour and recreate that journey that we felt we were on when we won the Boost National (Grand Slam).
"We know we are a good team and it is just about showing that now.  It is about playing to our strengths that will give us the best chances this year and essentially that is what we are doing and focusing on us."
Euro Super Series Results
Draw 9
Hasselborg v Witschonke (EE) 5-4
Team Italy v De Cruz 6-4
GB Red v Schori 7-3
Bryce v Mouat 2-4

Draw 10
Tirinzoni v Farmer 5-3
Van Dorp v Edin 5-6
Wrana v Munro 13-0
Totzek v Schwaller 3-6

Draw 11
Schori v MacDonald 5-8
Paterson v Mouat 5-7
Jenstch v Hasselborg 7-6
Watt v Team Italy 1-8

Draw 12
Munro v Henderson 4-7
Whyte v Schwaller*(EE) 4-3
GB Blue v Tirinzoni*(EE) 8-7
Craik v Van Dorp 8-5

Line scores: @CurlingZone
#curling #EuroSuperSeries
*LIVE stream: https://share.recast.app/u/64jxA?referrer=64jxA