Olympic Champions Team Muirhead and British Curling's Olympic Head Coach David Murdoch have all received awards in the Queen's Birthday Honours list in recognition of their achievements following their golden success at the Beijing Winter Olympics in Platinum Jubilee year.  
Olympic, European and World Mixed Doubles Champion Eve Muirhead receives an OBE having been awarded an MBE for her services to curling back in October 2020, while her team mates and Olympic Head Coach Murdoch receive MBEs.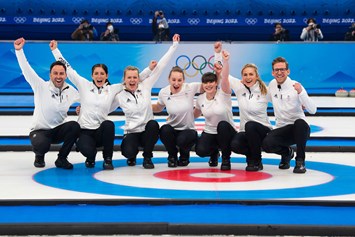 On receiving notification that she was to become 'Officer of the Order of the British Empire', Muirhead expressed both shock and surprise.

"If you had said to me this time last year what it would feel like to be in this position now as Olympic, European and World Champion and to cap those achievements with an OBE I would have bitten your hand off for just some of them," she said.
"I would never have dreamt that all that could happen from that point, but certainly none of this would have been possible without my teammates.
"Curling is such a team specific sport and you are all totally reliant on each other and I think we all help each other to be better curlers and teammates and this recognition today is a reflection of how well we have done over this past year and how far we have come.
"I am incredibly pleased for all the girls to get their MBE's and recognition of all that hard work and their achievements and I know many of them have so much more to offer in the sport and they have great futures ahead of them."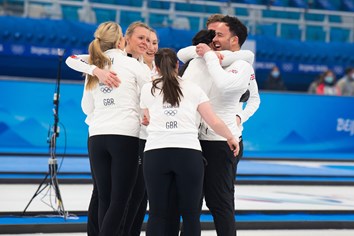 This time last year British Curling's women were facing a huge challenge just to get to the Winter Olympics after they finished outside the top six at the 2021 World Championships, which meant that five of them would be the first British players to have to come through an Olympic final qualifying competition.
Having skipped teams at the highest level for a decade, former world champion and world number one Muirhead found herself fighting for a place in the Olympic line-up in an innovative nine player squad system, overseen by Olympic Head Coach Murdoch.
Along with Vicky Wright, Jen Dodds, Hailey Duff and Mili Smith – all of whom have now, like Murdoch, received MBEs – she came through that process to claim her place in the team for the European Championships and the Olympic qualifying tournament and when they won both those competitions they earned the right to go to Beijing.
"It has been a whirlwind year and this award has given me some time to reflect on the Olympics and the World Champs and to get this on the back of the MBE feels pretty great, it feels very special," said Muirhead, who was the only team member to have previously competed at an Olympics, doing so in 2010 in Vancouver, in 2014 in Sochi when she won a bronze medal and in 2018 when her team finished fourth in PyeongChang.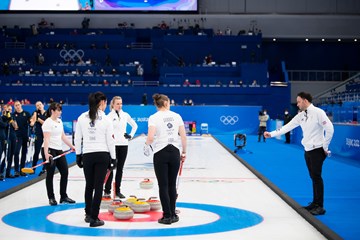 "I have always had the mindset of never giving up and I like to push boundaries, so if I am late home from training I am pleased that I have done a bit extra, because to win it does come down to not accepting that what you have done is enough – it is about can you do a bit more to get that bit extra from yourself."
While lockdown conditions resulted in a security system which kept athletes away from the local community and reduced attendances at strictly controlled events, Muirhead was particularly pleased with the way she and her colleagues responded to the environment at what was a unique Winter Olympic Games as they became only the second British team to win gold, following in the footsteps of Rhona Martin's 2002 team.
"Looking back to Beijing and being in the inner loop meant that you could eliminate noise and not let expectations or distractions affect you," she observed.
"Not having my phone or social media out there and being in a bubble I think actually helped us.
"So despite the 20 year anniversary since the last curling gold I think there was not a lot of expectation around us.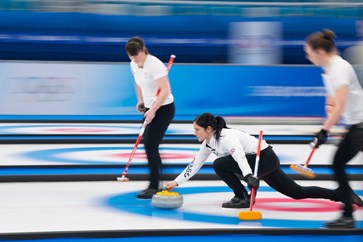 "I had gone into previous Games as a reigning World Champ or a European Champ, but this time we had to come through the Olympic Qualifying Event (OQE) so I think in many ways we were maybe bottom of the list in terms of expectation, but we did it the hard way.
"It gave us more team time, more competition time and more if/what scenarios and all of those challenges without doubt made us stronger curlers.
"Don't get me wrong I would not trade that Games for all the other Olympics I have been to in terms of experience, but the fewer distractions and the bubble and the pandemic minimised the noise and everything that surrounds the Games and I think that helped us to become Olympic Champions."
She also sees the latest awards she and her colleagues have received as recognition of their sport as a whole and is hopeful that their achievements can help motivate the next generation of curlers.
"Getting an OBE is a broader acknowledgement of all those sporting achievements and I hope to inspire others to get involved in sport and in curling," said Muirhead.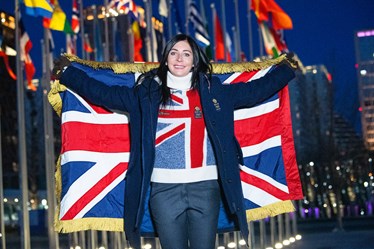 "It has been a tough journey, but I am now looking forward to the summer and time to reflect on these achievements and a chance to give back to curling which has given me these great opportunities.
"It has been a phenomenal season which is just starting to sink in. It just shows that the achievement from the team was very special and the girls getting their MBE's today is thoroughly deserved and I am looking forward to seeing what can be achieved next. "
Eve Muirhead OBE
Vicky Wright MBE
Jen Dodds MBE
Hailey Duff MBE
Mili Smith MBE
David Murdoch MBE
#curling  
Images: Team GB / David Pearce