ParalympicsGB have announced a five-strong wheelchair curling squad – the first members of the team that will represent Great Britain at the Beijing 2022 Paralympic Winter Games in two months' time.
The team includes former firefighter David Melrose who has paid tribute to the power of the Paralympics after being selected as part of the British team making the trip to China in March. 
Along with Meggan Dawson-Farrell and the team's alternate (travelling reserve) Charlotte McKenna, Melrose has been selected by ParalympicsGB as one of three debutants who will line up with Hugh Nibloe, who competed at PyeongChang 2018 and Gregor Ewan, who won bronze at Sochi 2014.
Melrose admits that this latest step on his journey that began 11 years ago when he was paralysed after an accident at work feels like a reward for his positive outlook after that life-changing moment. 
"I remember trying to lift the spirits of my family during my third day in hospital and had been told I would not walk again," Melrose explained.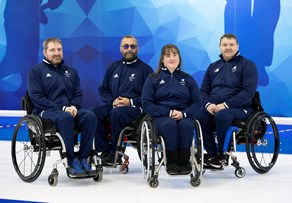 "A fellow fire fighter was visiting and I said: 'Now what sport can I do to get to the Paralympics?'.
"It was an off the cuff remark to make sure they thought I wasn't too down. It was not something I was serious about until I got on the curling programme in 2018 and that honed my self-discipline and drive.  
"Curling definitely helped me to re-focus on what I wanted to do with the rest of my life after my accident."  
Melrose joined the British Curling programme in 2018 and made rapid progress, earning selection for the World Championships the following year when Scotland won silver on home ice. However, the head-spinning nature of that experience has made him even more determined to savour his Paralympic debut. 
 "Going to my first Worlds was a bit of a blur in what was a meteoric first few years on the programme, so I really want to fully appreciate my first Paralympics," he said.  
"Getting the chance to pull on the ParalympicsGB kit starts to make it feel more real in what still feels like a surreal experience as the Paralympics is the pinnacle of the sport and there is no higher achievement than getting this opportunity.
"I am excited but probably not as excited as my wife Clare and the family," added Melrose.  
"They have been a constant support throughout the low times during the Covid pandemic when the squad could not train together.  
"I know it will be all consuming and they have my back when I am in Beijing - and full credit to Sheila (Swan, British Curling's Paralympic Head Coach) to see something in me and get me in to shape so I now have a life changing opportunity." 
Dawson-Farrell will meanwhile secure a very special place in sporting history when she takes to the ice in Beijing, having previously represented Scotland in Para athletics at the 2014 Commonwealth Games in Glasgow. 
"It was obviously exciting to be selected for the Commonwealth Games but it is also hugely exciting to be going to such a big global event and to have the chance to pull on a GB jersey. This is what you train for every day," said the 29-year-old.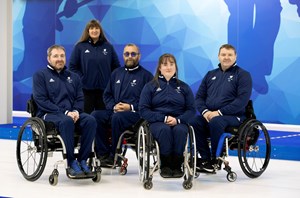 "Having switched to curling I now know the more team-oriented sport and the camaraderie of team-mates actually suits me better and to be able to share this experience with team-mates will be so much better." 
She is also excited about what her participation at a Paralympics means for her family and friends. 
"We may not be able to have them in the stands, but they will be rooting for us from home and I also have team-mates that have each other's backs and I am so grateful to be selected with them," she said.  
"I am sure it will be an amazing experience and like my team-mates we will be giving our all to make the play-offs and the medal matches. All of us want to come home with something shiny."  
ParalympicsGB Chef de Mission for Beijing 2022 Phil Smith said," I am delighted to welcome Hugh, David, Meggan, Gregor and Charlotte to the ParalympicsGB team bound for Beijing, the first names to be confirmed on the ParalympicsGB teamsheet for these Games.
"All five athletes have already produced some brilliant results this season and shown great focus and resolve in securing selection, particularly after the challenging times brought about by the COVID pandemic over the last two years, and I'm excited to see what they can achieve on the ice in Beijing in just under 60 days' time."
British Curling's Executive Performance Director Nigel Holl added, "Congratulations to this team who have had to demonstrate incredible resilience and determination to prepare for these Games during a period of extraordinary challenges. The team is an exciting combination of three debutants alongside two-time Paralympian Gregor Ewan and 2018 Paralympian Hugh Nibloe who are ready to show the world their potential and we wish them every success at what will be a unique Games experience."  
ParalympicsGB Wheelchair Curlers:  
Meggan Dawson-Farrell - Tullibody 
Charlotte McKenna (alternate) – Bridge of Allan  
Gregor Ewan - Elgin 
Hugh Nibloe - Stranraer 
David Melrose - Duns