Team Mouat completed their round-robin campaign with a perfect record and ended it with a convincing 8-3 win over their hosts, Norway, whom they will now meet again in the semi-finals at the Le Gruyere AOP European Curling Championships in Lillehammer.
Starting with the hammer by winning the pre-match last stone draw for the eighth match out of nine, they were forced to take a one at the opening end, but then applied sufficient pressure on opposition skip Steffan Walstad at the following end that his final stone wrecked on a guard conceding a two to the Scots.
That provided an advantage Bruce Mouat, Grant Hardie, Bobby Lammie and Hammy McMillan never relinquished as singles were exchanged at the next five ends before they sealed an 8-3 victory with a three at the eighth end.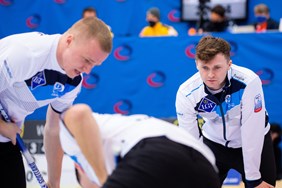 "We're really happy with that performance and felt like we almost should have had the game wrapped up a wee bit earlier, but sometimes you just have to grind these things out," Mouat said afterwards.
Their win included a superb individual performance by McMillan who has consistently been ranked the best lead in the event and had his shots marked at 100 per cent accuracy by the scorers on the day, but the highest compliment he could receive was that Mouat considered that relatively unremarkable.
"Hammy's been playing well all week, so I'm not really surprised that he's getting games at 100 per cent which just shows that he's one of the top leads in the world," said the skip.
They were, however, all particularly pleased to mark a special day for their coach in style as Alan Hannah marked a personal half century.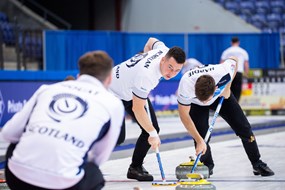 "It was nice to help Alan celebrate by getting a win and cement our round-robin as a success, so we're very chuffed and hopefully he's having a good birthday," said Mouat.
The competition now shifts gear as they move from a league-style contest to knockout mode, but Mouat said they would simply be looking to maintain the same approach.
"Fortunately we've been in this position before and we know that play-offs are a different kind of beast I suppose, but we're looking forward to them and we're going to just try to take it like we have with every other game, so it won't be too different," he said.
"We're playing well here as the 9-0 record shows, but we'll take what we've learned from these games and try to put it into practice.
"We're playing Norway again, so it'll be a really good game.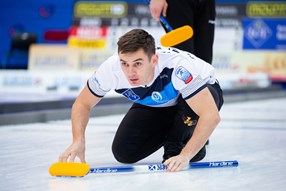 "We'll debrief this game against them and see what we can sharpen up on, because we had a few opportunities for bigger ends, but we played a lot of good stuff and so did they, so it should be a good game again tomorrow.
"They are tough opposition, so there will be lots of stones in play and we'll hopefully be able to get the same result as we've had today."
Defending champions Sweden will meet Italy in the other semi-final at 8am (GMT) whilst Mouat's men will take on Norway at 12.30 (GMT) tomorrow and both games will be available to watch on the Recast platform.
#curling #ECC2021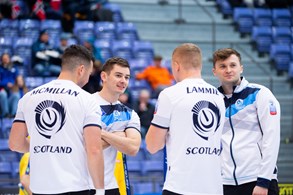 Scotland Team
Bruce Mouat
Grant Hardie
Bobby Lammie
Hammy McMillan
Ross Whyte (alternate)
PHOTO: WCF / CELINE STUCKI
Schedule and Results
Saturday 20 November
W Scotland v Russia 7-4
M Scotland v Sweden 6-2
W Scotland v Denmark 8-2
Sunday 21 November
M Scotland v Finland 6-2
W Scotland v Sweden 8-5
M Scotland v Italy 7-2
Monday 22 November
W Scotland v Germany 9-5
M Scotland v Netherlands 9-2
W Scotland v Estonia 10-3
M Scotland v Germany 10-5
Tuesday 23 November
W Scotland v Italy 7-8
M Scotland v Denmark 9-8
W Scotland v Czech Republic 9-1
Wednesday 24 November
M Scotland v Switzerland 7-1
W Scotland v Switzerland 7-2
M Scotland v Czech Republic10-5
Thursday 25 November
W Scotland v Turkey 9-4
M Scotland v Norway 8-3
W Semi Final Sweden v Russia 3pm
W Semi Final Scotland v Germany 7pm
Friday 26 November
M Semi Final Sweden v Italy 8am
M Semi Final Scotland v Norway 12.30pm
W Bronze medal game 5pm
Saturday 27 November
M Bronze medal game 8am
W Gold medal game 11.30am
M Gold medal game 4pm