Scotland's wheelchair curling team that has been announced today will enter new territory when they head for China later this month, competing in a World Championships earlier in their schedule than in previous years.

The trip will also provide something of a test run ahead of this season's Winter Paralympics at the same venue, the Ice Cube.  
The World Wheelchair Curling Champs are taking place from October 23-30 in Beijing, while the Winter Paralympics take place from March 4-13th so, as well as targeting success at this event, British Curling's Paralympic Head Coach Sheila Swan sees it as a golden opportunity to learn key lessons.

"It has been a year of many challenges but it is without doubt great to be getting back to competing at a World Championships," she said.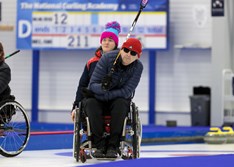 "This will be a great test event ahead of the Paralympic Games next year and will be a good chance to get a feel of the venue and the ice conditions.

"All of the planning and preparations we have been making for a season with two major events will now become a reality. Travelling east and changing time zones and all that entails is a great opportunity to test out all of those plans and protocols during our travel out to Beijing.  

"I know the team is looking forward to getting back into world class action as they last competed at this level in February last year, but I know they all feel it has been worth the wait and the coming weeks represents the chance to put all of their hard work and training in the National Curling Academy (NCA) over the last year into action.
"The venue and time zone may be different, but the target will remain the same as they bid first to qualify for the Worlds next year and following that qualification, focus on reaching the knock-out stages of the tournament."
The wheelchair event was the only one of the senior World Championships to take place in the 2019/20 season with lockdown forcing the cancellation of the men's, women's and mixed doubles competitions and the Scotland line-up sees two changes to the team that went to Switzerland with David Melrose returning after injury, while Gregor Ewan has earned a recall.  
 "I am obviously delighted to be among those selected for this World Champs and to experience China for the very first time," said Ewan.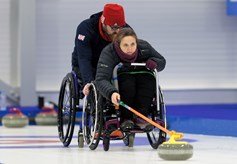 "Being back on the British Curling programme and having this opportunity to be selected from the national squad is something I am extremely proud of.
"This sport has taken to me to so many interesting places around the world that I would never have imagined visiting and it is exciting to be going to China to compete there."
Ewan, who dropped out of the squad after representing ParalympicsGB at the Winter Paralympics in Korea in 2018, has had to work hard to reclaim his place alongside Melrose, skip Hugh Nibloe, Charlotte McKenna and Meggan Dawson-Farrell.
"I have put my heart and soul into getting back on the national team and the curling programme has helped me immensely me both on and off the ice, so after putting all that effort in I am delighted to be given the chance to pull the Scotland jersey on again," he said.
"All of the effort I have put in on a personal level means I feel fitter now than I have ever been before heading into a World Champs, but now it is not for me but for my team and for my country and I know that all of the team selected now want to make Scotland proud.

"We have lots of travel ahead, a different time zone, different food, a new venue to get used to, so lots of different things in the equation and it feels amazing to be given this opportunity to experience all of these new challenges.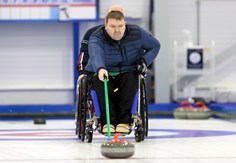 "It has been one of the most difficult years building to this championships, but we have continued with our hard work day in and day out thanks to a great support team keeping us motivated on ice, in the gym and in the classroom sessions, stepping everything up to ensure we looking after everything we do so we find those margins that will make a difference when we get to do the talking on the ice."  
Scotland Team:
Hugh Nibloe (Stirling) – made his debut as skip at the last World Wheelchair Champs and this will be his second opportunity to lead Scotland's quartet into action at what will be his fifth World Championship appearance.
David Melrose (Duns) – made his debut at the World Championships when it was hosted in Stirling when Scotland won silver in 2019 and after being unable to compete in Wetzikon in Switzerland in 2020, he is looking forward to representing Scotland again.
Gregor Ewan (Elgin) – the two time Paralympian last took to the podium at a World Champs in 2017 and this event represents his first major championship appearance since competing at the Paralympics in PyeongChang in 2018
Charlotte McKenna (Bridge of Allan) – Debutant at last year's World Champs.
Meggan Dawson-Farrell (Tullibody) – Former Commonwealth Games athlete who was alternate at her first World Champs last year and will hope to take to the ice this time around.

12 mixed gender teams will compete in the round robin phase, followed by a six team play-off. The top two teams progress to the semi finals while the team ranked third will meet the team ranked sixth and the team ranked fourth will meet the team ranked fifth for the right to join them in the semi finals.
The World Wheelchair Curling Championships 2021 is the final competition where qualification points for the Beijing 2022 Paralympic Games can be earned.
For more information on the World Wheelchair Curling Championships please visit:
https://worldcurling.org/events/wwhcc2021/
#curling #WWhCC202