Scotland's World Wheelchair Curling Mixed Doubles campaign ended in Finland when Meggan Dawson-Farrell and Gregor Ewan were beaten 9-1 by Sweden in their final round-robin match.
The Scots had gone into the match with a realistic chance of reaching the play-offs if they could beat Sweden's Sabina Johansson and Marcus Holm and finish with a split record of four wins and four losses.
However, after losing the pre-match draw shot challenge to allow their opponents to take last stone advantage into the opening end, they conceded a two and were then out-played as their opponents ran up a succession of steals to set up a 9-0 lead after five ends.
They finally got off the mark at the sixth, but a score of one was not enough to rekindle their hopes and they accepted defeat at that point.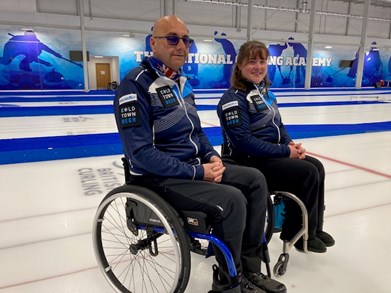 "It was a hard game. I must admit we put a lot of stones wrong and Sweden didn't put any wrong. From the first end to the sixth end they didn't miss much at all," said Ewan.
"I think they had one that they flashed badly, but other than that they made every shot and we just were not doing that."
As they reflected on this first ever World Wheelchair Mixed Doubles Championship, Dawson-Farrell said there was consolation to be taken from having been involved in the introduction of an exciting new development for the wheelchair game.
"That was our last competition of the season and unfortunately it's not how we wanted to go out, but it is what it is and we just have to move forward now and go back home and have a little bit of down time then come back again fighting," she said.
"We're very disappointed, but I have enjoyed what has been a very good event, so there's a lot to take away from it and go home and work on."
The more experienced Ewan echoed that point, noting that the challenges that had faced his younger partner who has made rapid advances in a short time since switching from athletics and has now added another string to her bow, underlines how much there is for wheelchair curlers to learn
"We have been going on able-bodied strategies and most of them do fall into the same category, but for wheelchairs there is a wee bit of a difference and now there is video out there that people can study for the next team that comes out to the pairs," the three-time Paralympian pointed out.
"Whether it be myself and Meggan again or somebody else, there's video there that they can sit and study and they've got to be a lot better at that draw to the button.
"This is our first time at the pairs and this is Meggan's first time having to hold a brush and call shots and work out who's lying and working out angles.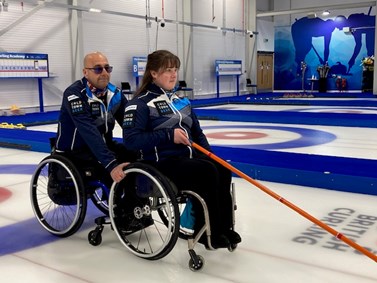 "For the last three or four years Meggan's been trained to aim at a brush and play a weight with someone in the head, whereas this time she was doing it without that.
"I think she's done really well at that, but it's a steep learning curve, even for me."
The event, held at the Kisakallio Sports Institute in Lohja, Finland (30 April – 5 May), features 18 national teams, split into two groups of nine, competing in a round-robin format, ahead of knockout play-offs for the medals which get underway tomorrow.
Scotland Wheelchair Curling Mixed Doubles Team
Meggan Dawson-Farrell
Gregor Ewan
Saturday 30 April
Scotland – Switzerland 5-10
Scotland – Hungary 7-4

Sunday 1 May
Scotland – Japan 8-4
Scotland – Italy 11-1

Monday 2 May
Scotland – Estonia 8-6

Tuesday 3 May
Scotland – Korea 5-8
Scotland – Finland 6-5

Wednesday 4 May
Scotland – Sweden 1-9

Thursday 5 May
Semi finals
A1 v winner of B2 v A3
B1 v winner of A2 v B3
Finals
#curling #WWhMDCC2022