Meggan Dawson-Farrell and Gregor Ewan must win their final two matches at the World Wheelchair Curling Mixed Doubles Championship after suffering an 8-5 defeat to Korea in their first game of the fourth day's play in Finland.
Having claimed an impressive win against Estonia in their only match on day three, the Scottish pair looked to be picking up where they left off when they won the draw shot challenge to take last stone advantage into the opening end and duly registered a three to open proceedings.
Their opponents responded well, however, levelling the match at the second end, then stealing at each of the next three ends to set up a commanding 6-3 lead.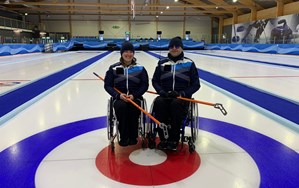 The Scots then took their powerplay and managed to end that run of lost ends by scoring at the sixth and after the Koreans scored two more at the seventh, they set things up to give themselves a chance but were not quite able to secure the big score that would have kept the match alive.
"It's disappointing, but we have another game this afternoon and we just have to come out fighting," said Dawson-Farrell.
While she gamely took responsibility for that failure to convert their chance to level the match at the last scheduled end, she took heart from the way they had stayed in the match.
"We had our powerplay and utilised that and got in there and fought to the end," she said.
"At the last end we were close to getting a four to take the match to an extra end. The opportunity was there, but I came up short having given it my best shot, but now we have to move on."
Results elsewhere meant that if they could win their second game of the day against hosts Finland, they could still have a chance of reaching the play-offs when they meet Sweden in their final round-robin match tomorrow.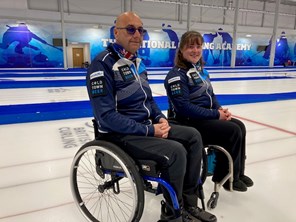 "We are still up for the fight for the last two games," said Dawson-Farrell.
"You just never know what might happen, so we will keep going and will fight to the end."
The event, held at the Kisakallio Sports Institute in Lohja, Finland (30 April – 5 May), features 18 national teams, split into two groups of nine, competing in a round-robin format, ahead of knockout play-offs for the medals.
Scotland Wheelchair Curling Mixed Doubles Team
Meggan Dawson-Farrell
Gregor Ewan
Saturday 30 April
Scotland – Switzerland 5-10
Scotland – Hungary 7-4

Sunday 1 May
Scotland – Japan 8-4
Scotland – Italy 11-1

Monday 2 May
Scotland – Estonia 8-6

Tuesday 3 May
Scotland – Korea 5-8
Scotland – Finland

Wednesday 4 May
Scotland – Sweden

Thursday 5 May
Semi finals
A1 v winner of B2 v A3
B1 v winner of A2 v B3
Finals
#curling #WWhMDCC2022