Scotland's Meggan Dawson-Farrell and Gregor Ewan improved their chances of getting through to the play-offs at the World Wheelchair Mixed Doubles Championships when they defeated Estonia 8-6 in their only match of day three in Finland.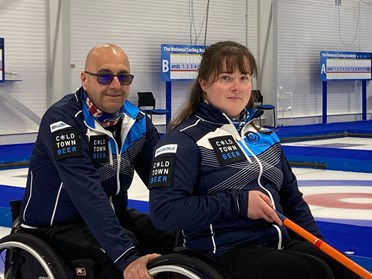 It was their second win of the event and the experienced Ewan reckoned it was due reward for the way they had reacted to a disappointing defeat to Italy the previous day.
"It was good to get the win, but it all came back to the way we reacted to yesterday's defeat," said the three-time Paralympian.
"We decided to go for evening practice to work on a couple of different things that paid a big dividend going into today."
They duly took the initiative against Estonia's Signe Falkenberg and Mait Matas, winning the last stone draw to earn the hammer and registering a two at the opening end.
They followed that with a steal of two at the second end and another steal at the third, so that when Estonia took advantage of their powerplay and registered a four at the fourth end, the Scots still took a 5-4 advantage into the midway break.
They looked to be under pressure when the Estonians stole another shot at the fifth to level the scores, but a two for Scotland at the sixth end calmed any nerves and they then stole another shot at the seventh end to give themselves a cushion playing the last.
It was a hugely encouraging performance in what is their first overseas mixed doubles competition and the first ever World Mixed Doubles Wheelchair Curling Championships and Ewan is hoping they will now use that as a platform to push towards the play-offs.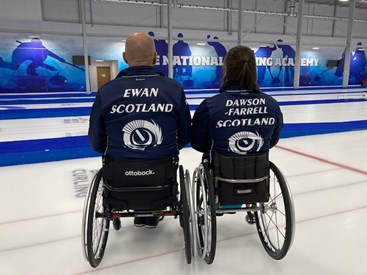 "We now need to step up and show that we're not just here to make up the numbers, but to actually put people under pressure and fight for our spot," he said.
It was their only match of the day and they now go on to face Korea and Finland on day four.
The event, held at the Kisakallio Sports Institute in Lohja, Finland (30 April – 5 May), features 18 national teams, split into two groups of nine, competing in a round-robin format, ahead of knockout play-offs for the medals.
Scotland Wheelchair Curling Mixed Doubles Team
Meggan Dawson-Farrell
Gregor Ewan
Saturday 30 April
Scotland – Switzerland 5-10
Scotland – Hungary 7-4

Sunday 1 May
Scotland – Japan 8-4
Scotland – Italy 11-1

Monday 2 May
Scotland – Estonia 8-6

Tuesday 3 May
Scotland – Korea
Scotland – Finland

Wednesday 4 May
Scotland – Sweden

Thursday 5 May
Semi finals
A1 v winner of B2 v A3
B1 v winner of A2 v B3
Finals
#curling #WWhMDCC2022