After clinching top spot in the round-robin standings at the Le Gruyere AOL European Curling Championships by beating Switzerland earlier in the day, Team Mouat cruised to an eighth successive victory over the Czech Republic and set sights on moving into the play-offs with an unbeaten record.
Their dominance over the Czechs, who remain in contention for a play-off spot, was such that they were able to rest vice skip Grant Hardie and give their alternate Ross Whyte another taste of the action which could prove vital as they prepare for the Winter Olympics later in the season.
The match had effectively been over by the halfway stage when the Scots stole a two at a second successive end, to gain a 9-2 lead at that stage and after a blip at the sixth end saw them concede a three, they wrapped up a 10-5 win at the next end.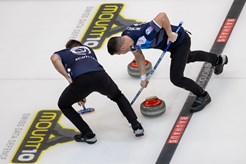 That followed a hugely impressive performance earlier in the day as last season's World Championship bronze medallists Switzerland were beaten in even quicker time, that match ending after just six ends with the Scots leading 7-1.
"It was a great game this morning against Switzerland," said skip Mouat.
"We knew we were going to have to come out and play some of our best curling, which is exactly what we did. We put them under a lot of pressure and really focused on making the key shots.
"We had them in a bit of bother most of the time, but with the class of player that we were against, it's tough not to leave them anything, so they had a few chances, but fortunately they were on the wrong side of the inch for most of the time."
That win, accompanied by World champions Sweden's surprise defeat to Italy, not only meant that they had secured a semi-final place, but that they would remain top of the standings, however the Scots are now determined to go through the entire tournament unbeaten, which means beating Norway, another team that is still in title contention, in their final round-robin match.
"We're very excited to start looking to the play-offs, but we've still got a tough game against Norway who are also looking for play-off spot, so we're going to have to come out and play really well against them," said Mouat. 
"That's a really good way to build towards a tough game in the play-offs and we're not sure who we're going to get, but we want to make sure we're playing as well as we can and that's exactly what we're going to try to do against them."
Having assured themselves of every possible advantage in the semi-finals, the crucial factor is seeking to stick to the standards that have brought them to this position.
"We will be looking to maintain our form against Norway and the position we've put ourselves in means we'll have the luxury of having the hammer and choice of stones in the play-offs which will be quite key for us. It gives us the chance to control a game early," said Mouat.
Having reached the final of every major competition they have played in during 2021, winning three Grand Slam titles along the way, he believes they now fully understand what is required in the transition from round-robin to play-offs.
"We've got into a bit of a routine of playing at Championships and we kind of know what's happening and the environment suits our abilities because we love playing in front of a crowd and the ice is always fantastic, so we're just feeling at home here," he said.
#curling #ECC2021
Scotland Team
Bruce Mouat
Grant Hardie
Bobby Lammie
Hammy McMillan
Ross Whyte (alternate)
PHOTO: WCF / STEVE SEIXEIRO
Schedule and Results
Saturday 20 November
W Scotland v Russia 7-4
M Scotland v Sweden 6-2
W Scotland v Denmark 8-2
Sunday 21 November
M Scotland v Finland 6-2
W Scotland v Sweden 8-5
M Scotland v Italy 7-2
Monday 22 November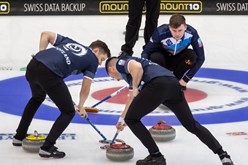 W Scotland v Germany 9-5
M Scotland v Netherlands 9-2
W Scotland v Estonia 10-3
M Scotland v Germany 10-5
Tuesday 23 November
W Scotland v Italy 7-8
M Scotland v Denmark 9-8
W Scotland v Czech Republic 9-1
Wednesday 24 November
M Scotland v Switzerland 7-1
W Scotland v Switzerland 7-2
M Scotland v Czech Republic10-5
Thursday 25 November
W Scotland v Turkey 7am
M Scotland v Norway 11am
W Semi Final 2 v 3 3pm
W Semi Final 1 v 4 7pm
Friday 26 November
M Semi Final 2 v 3 8am
M Semi Final 1 v 4 12.30pm
W Bronze medal game 5pm
Saturday 27 November
M Bronze medal game 8am
W Gold medal game 11.30am
M Gold medal game 4pm