A rousing fightback in the second half of a dramatic semi-final against Germany at the Le Gruyere AOP European Curling Championships took Scotland's Team Muirhead through to a re-match of the 2019 final with Sweden's Olympic champions Team Hasselborg in Lillehammer.
The Scots made an edgy start to the match, failing to take advantage of having earned last stone advantage by finishing top of the standings as the first end was blanked before they then conceded steals at each of the next two.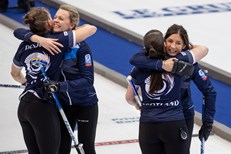 Both teams were then forced at the next two ends to preserve the Germans two shot lead at 3-1 at the midway break.
The benefits of the halftime chat were immediately evident when Scotland managed to secure the first two of the match at the next end and a steal at the seventh nudged them ahead for the first time.
When they forced at the eighth then registered another two at the ninth they finally had their chances in their own hands and now it was the Germans who were looking nervous, making a succession of errors in the final end that allowed the Scots to see the game out with another steal taking the final score to 7-4.
After steering teammates Vicky Wright, Jen Dodds and Hailey Duff to victory, a delighted Eve Muirhead also paid tribute to the contribution of their team coach Kristian Lindstrom, British Curling's Olympic head coach David Murdoch and their fifth player Mili Smith for finding the right words during the half-time chat.
"That was definitely the proverbial game of two halves," she said.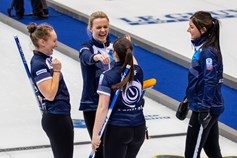 "We had a great team talk at the fifth end with Dave and Kristian and Mili and we really turned things around, which showed in us winning the second half of the game 6-1."
The result meant that the skip is guaranteed to add a 10th medal to her personal Euros haul, but she was even more pleased for youngsters Duff and Smith who are at their first Euros and wants to ensure that they get the best prize of all.
"I'm delighted at getting into my eighth European final and for Mili and Hailey being at the their first Europeans to come away guaranteed a medal is fantastic, but I know how determined we all are to be at the top of that podium," she said.
 "Before that we've got a day off tomorrow, so we'll have a day of just relaxing, trying to switch off a bit from curling. We will get some practise at some point and we'll come and support the boys in their semi-final and let's hope it's a double Scotland final out here on Saturday."
The women's final will take place at 12.30 (GMT) on Saturday 27 November.
Scotland Team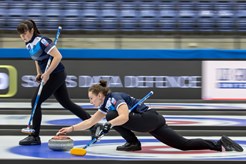 Eve Muirhead
Vicky Wright
Jen Dodds
Hailey Duff
Mili Smith
#curling #ECC2021
PHOTOS: WCF / STEVE SEIXEIRO
Schedule and Results
Saturday 20 November
W Scotland v Russia 7-4
M Scotland v Sweden 6-2
W Scotland v Denmark 8-2
Sunday 21 November
M Scotland v Finland 6-2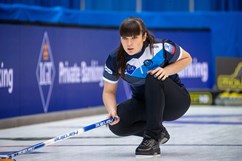 W Scotland v Sweden 8-5
M Scotland v Italy 10-5 
Monday 22 November
W Scotland v Germany 9-5
M Scotland v Netherlands 9-2
W Scotland v Estonia 10-3
M Scotland v Germany 10-5
Tuesday 23 November
W Scotland v Italy 7-8
M Scotland v Denmark 9-8
W Scotland v Czech Republic 9-1
Wednesday 24 November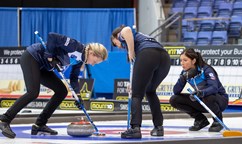 M Scotland v Switzerland 7-1
W Scotland v Switzerland 7-2
M Scotland v Czech Republic 10-5
Thursday 25 November
W Scotland v Turkey 9-4
M Scotland v Norway 8-3
W Semi Final Sweden v Russia 5-4
W Semi Final Scotland v Germany 7-4
Friday 26 November
M Semi Final Sweden v Italy 8am
M Semi Final Scotland v Norway 12.30pm
W Bronze medal game 5pm
Saturday 27 November
M Bronze medal game 8am
W Gold medal game 11.30am
M Gold medal game 4pm