A delighted Eve Muirhead was full of praise for her team after a comprehensive defeat of Switzerland's reigning World champions took Scotland into the semi-finals at the Le Gruyere AOL European Championships in Lillehammer.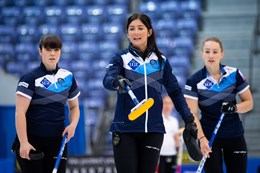 While the Swiss won the right to throw the final shot at the first end at the pre-match last stone draw, that was pretty much the only time they held the upper hand all afternoon as Muirhead, Vicky Wright, World Mixed Doubles Champion Jen Dodds and Hailey Duff produced an exhibition of precision curling.
"We came out very sharp from the very first end and made it difficult for them," said skip Muirhead.
"Our communication was very good. We put our stones in really good spots and pinpointed everything. We weren't happy just to be ball park, we wanted them in the exact right spots and that's what we did.
"We made sure we minimised the zeroes, kept everything above the tee line and really forced them into a lot of tougher shots and a few mistakes.
"The sweeping was great. Jen and Hailey as a pair out there sweeping together are really doing a fantastic job. Vicky played great. As a vice she's a great support for me and luckily I managed to finish a lot of the ends off."
Having beaten all the remaining contenders for semi-final places the Scots are guaranteed top spot in the round-robin standings, but they are still demanding maximum focus as they transition into play-off mode.
"Another game against Turkey in the morning and then we can get rested up and come out firing in the semi-finals tomorrow night," said Muirhead.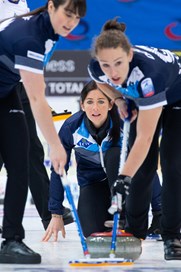 "Hopefully we don't lose this momentum. I think it's important that we take all the good things from that game, but it's also important that we learn as well, because there's definitely a few things that we probably could have done differently. So, we've got to take tomorrow as a new day."
Scotland Team
Eve Muirhead
Vicky Wright
Jen Dodds
Hailey Duff
Mili Smith
#curling #ECC2021
PHOTOS: WCF / CELINE STUCKI
Schedule and Results
Saturday 20 November
W Scotland v Russia 7-4
M Scotland v Sweden 6-2
W Scotland v Denmark 8-2
Sunday 21 November
M Scotland v Finland 6-2
W Scotland v Sweden 8-5
M Scotland v Italy 10-5
Monday 22 November
W Scotland v Germany 9-5
M Scotland v Netherlands 9-2
W Scotland v Estonia 10-3
M Scotland v Germany 10-5
Tuesday 23 November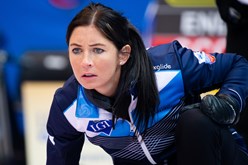 W Scotland v Italy 7-8
M Scotland v Denmark 9-8
W Scotland v Czech Republic 9-1
Wednesday 24 November
M Scotland v Switzerland 7-1
W Scotland v Switzerland 7-2
M Scotland v Czech Republic 6pm
Thursday 25 November
W Scotland v Turkey 7am
M Scotland v Norway 11am
W Semi Final 2 v 3 3pm
W Semi Final 1 v 4 7pm
Friday 26 November
M Semi Final 2 v 3 8am
M Semi Final 1 v 4 12.30pm
W Bronze medal game 5pm
Saturday 27 November
M Bronze medal game 8am
W Gold medal game 11.30am
M Gold medal game 4pm