After coming through an all Scottish final to register a second Scottish win on successive weekends in Canada, Team Whyte will be flying the Saltire solo as they head into the ATB Okotoks Classic in Alberta this weekend (23-26 September).
Early season form for the British Curling programme's leading teams has been extremely encouraging and the victory by Ross Whyte's men at the KW Fall Classic in Ontario, beating compatriots Team Paterson in the final, followed up on the previous weekend's success for Team Mouat, when they beat Brad Jacobs' world no.1 ranked line-up.
Both Whyte and Paterson came through the round-robin stages unbeaten in Ontario, then negotiated their quarter and semi-finals before meeting in the final, where Whyte and teammates Robin Brydone, Duncan McFadzean and Euan Kyle, beat Ross Paterson, Kyle Waddell, Duncan Menzies and Craig Waddell 5-3 in the final.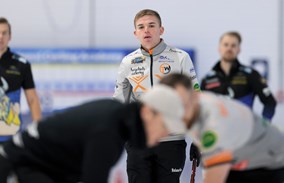 It was a breakthrough triumph for the youthful quartet who made an immediate impact at the highest level when they reached the play-off stages of every tournament they entered in their first full season on the senior tour in 2019-20.
They continued that into the new season, reaching the final of the Euro Super Series event at the National Curling Academy in Stirling in the first event of the current campaign, before reaching the quarter-finals in another high class field at the Stu Sells Tankard, which was won by Mouat.
"It's great to finally win our first event in Canada," said Whyte.
"We have been close many times so to get over the line and finally win was a nice feeling.
"We have had a good start to the season and are hoping to continue this on for the season ahead."
In meeting familiar faces in the final they knew they would have a tough battle against a team that has previously enjoyed a Grand Slam tournament win in Canada and claimed a bronze medal at a European Championship.
"The final was good to get to play Paterson as we always have a hard game against them and this one was no different," said the 23-year-old.
"They put a lot of pressure on us when they had hammer but we managed to come through."
Getting that first win also allows Whyte's men to be ever more strategic as they plot out the rest of their season which includes getting in the mix with Kevin Koe's former world champions Team Koe and Brendan Bottcher's reigning Canadian champions this weekend.
"We now go out to Okotoks in Calgary for a competition with another strong field so we will look to try and have another good week and see how far we can get," he said.
"Being able to do it for a full season may be hard, but peaking at the right times will be what we look to do."