Team Whyte will contest the inaugural Euro Super Series final on their home ice after maintaining the excellent form they have shown throughout the week with a commanding performance against Olympic and World Championship bronze medallists Team De Cruz..
Having qualified automatically for the semi-finals by topping their pool, the youthful Scottish quartet of Ross Whyte, Robin Brydone, Duncan MacFadzean and Euan Kyle demonstrated how at ease they now are among the world's best players when they powered into a four shot lead after two ends and they were never seriously troubled from that point.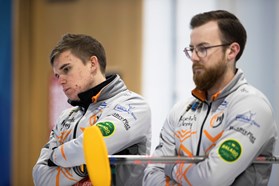 "It was a very nice start with a three in the first end and the other team struggled with the ice a touch, whereas we got to grips with it, so that was really good because it set the tone and we managed to get the win," their skip said afterwards.
"We just had to keep our concentration up and it was always going to get a wee bit closer. It was one of those ones where we weren't going to get too bothered if we were giving up single points, so we were always in control when we had the hammer which was really good."
Whyte admitted to having received something of a lesson on his only previous meeting with Peter De Cruz, so he enjoyed levelling the score.
"We played them three or four years ago in Oakville with three of our current line-up and James Craik, so that's us one and one with Team De Cruz now," he said.
"We're very pleased. You can't ask for much more than making the final, but hopefully we can turn up, put in a good performance and get over the line."
They will again face Swiss opponents in the final after Team Schwaller edged out Italy's Team Retornaz earlier in the day after delivering one of two surprise results earlier in the day when both finalists at last season's World Championships were beaten.
De Cruz had beaten five time World and seven time European champions Team Edin from Sweden in one of those semis, while Schwaller was seeing off Scotland's Team Mouat in emphatic fashion, running out 8-2 winners.
That ended an extraordinary run that had seen skip Bruce Mouat win every men's and mixed doubles event he had played in on Scottish ice since 2020, but he was philosophical about seeing that end.
"We had a bit of a slack game, but credit to Team Schwaller, they played unreal," said Mouat.
"I think we just struggled a bit with the ice this week. We weren't on top of things and other teams were getting the advantage on us, so we need to sharpen up on our releases and get an understanding of what the ice is doing a bit quicker in the game. It's not miles away, but at this level of the game you're going to get beaten quite convincingly if you have a slack game and that's what happened.
"This week's been about getting back into the flow of things. We're not really looking too far ahead and this was a nice start to our season, even though results didn't go our way.
"We're quite realistic that we're not always going to be able to compete at that level we were at when we got to the end of last season, or even throughout last season and this is our first international event for a long time, so it was a nice wee reality check for us and we're obviously going to try to respond to that next week in Canada and play some better curling."
He and teammates Grant Hardie, Bobby Lammie and Hammy McMillan are now looking forward to returning to another happy hunting ground as they make their first overseas visit of the season to Canada, where they enjoyed so much success last season in reaching the World Championship final and winning back-to-back Grand Slam tournaments on the following two weekends.
"Oakville's a nice place for us to go back to. We've had some successes there and we obviously love playing in Canada," he said.
"The competitions are going to be tough and we're looking forward to playing there and hopefully getting some good games against good opposition."
Team Mouat's semi final featured on BBC Sport Scotland online and BBC iPlayer sport today and one of the event's finals will also be broadcast tomorrow morning.
The Euro Super Series has also been live streamed every day on the innovative Recast channel which will also show one of the finals in the morning.
British Curling's Recast Channel:  https://share.recast.app/u/64jxA?referrer=64jxA
Euro Super Series Results
Draw 1
Watt v De Cruz (EE) 6-7
Bryce v Paterson 2-4
Witschonke v Jentsch 4-5
GB Red v MacDonald 8-3

Draw 2
Craik v Edin 3-6
Totzek v Whyte 2-7
Farmer v GB Blue 1-11
Wrana v Henderson 8-3

Draw 3
Mouat v Team Italy (EE) 7-8
MacDonald v Jentsch 10-4
Paterson v Watt 6-5
Schori v Hasselborg 5-4

Draw 4
Schwaller v Van Dorp 6-1
Henderson v GB Blue 3-8
Whyte v Craik 4-5
Munro v Tirinzoni 2-10
Draw 5
Jenstch v Schori* 5-6
Mouat v Watt 7-4
Team Italy v Paterson* (EE) 6-5
Draw 6
GB Blue v Munro* 8-1
Schwaller v Craik 7-2
Tirinzoni v Henderson 6-1
Van Dorp v Whyte* (EE) 7-8

Draw 7
Witschonke v GB Red* (EE) 4-5
De Cruz v Bryce* 11-2
Hasselborg v MacDonald 10-3

Draw 8
Farmer v Wrana 3-11
Edin v Totzek 6-3

Draw 9
Hasselborg v Witschonke (EE) 5-4
Team Italy v De Cruz 6-4
GB Red v Schori 7-3
Bryce v Mouat 2-4

Draw 10
Tirinzoni v Farmer 5-3
Van Dorp v Edin 5-6
Wrana v Munro 13-0
Totzek v Schwaller 3-6

Draw 11
Schori v MacDonald 5-8
Paterson v Mouat 5-7
Jenstch v Hasselborg 7-6
Watt v Team Italy 1-8

Draw 12
Munro v Henderson 4-7
Whyte v Schwaller*(EE) 4-3
GB Blue v Tirinzoni*(EE) 8-7
Craik v Van Dorp 8-5

Draw 13
De Cruz v Paterson 7-2
Watt v Bryce 8-5
MacDonald v Witschonkie 3-9
Jenstch v GB Red 7-4
Draw 14
Edin v Whyte 3-4
Craik v Totzek 6-5
Henderson v Farmer 5-4
GB Blue v Wrana 7-4

Draw 15
Team Italy v Bryce 5-3
GB Red v Hasselborg 5-7
Mouat v De Cruz 5-6
Witschonke v Schori 10-3

Draw 16
Van Dorp v Totzek 5-3
Wrana v Tirinzoni 4-5
Schwaller v Edin 7-3
Farmer v Munro 7-6
Draw 17
Men's & Women's Quarter Finals Results
Tirinzoni v GB Red 3-6
Edin v De Cruz 2-4
Wrana v Hasselborg 4-3
Mouat v Schwaller 2-8

Draw 18
Semi final Results:
Team Whyte v Team De Cruz 7-5
Team Italy v Team Schwaller 4-5

Draw 19
Semi final Results:
Team GB Blue v Team Wrana 5-6
Team Jenstch v Team GB Red 4-7

Draw 20 09.00am
Women's Final
Team GB Red v Team Wrana

Men's Final
Team Whyte v Team Schwaller