Just weeks after making her Paralympic Winter Games debut, Meggan Dawson-Farrell will continue to break new ground as one of the first athletes selected to compete in a World Wheelchair Mixed Doubles Championships which will be hosted in Lohja, Finland later this month (30 April-5 May).
The former Commonwealth Games track athlete will team up with three-time Paralympian Gregor Ewan as they become the first representatives for Scotland at the inaugural event in a year which saw another first when the Paralympians competed in a World Championships and a Paralympic Games in the same season.
Reflecting on what has been the busiest international season in the sport's history, Dawson- Farrell spoke of her excitement of once again returning to the world stage for another arena experience.
"This year has been amazing getting selected for my first Paralympics," she said.
"It was an incredible experience and I had an amazing time. That buzz that makes me want to keep going and keep progressing.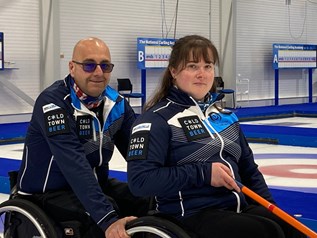 "Now getting selected for the Mixed Doubles is another great opportunity and the cherry on the top of this Paralympic season and I cannot wait to get out there to perform again."
Having switched sports just five years ago, Dawson-Farrell has revelled in the involvement in a team sport, but still regards herself as something of a newcomer to wheelchair curling.
"For me, I am still learning about Mixed Doubles," she said.
 "It is still a relatively new experience getting used to this discipline but that is great to get this chance and to get the opportunity to start building experience in this event.
"To be the first athletes to compete in this event is very exciting. I am looking to get more experience of this quick game, quick thinking and I am ready to give this everything.
"If we can do well as a team then in four years time we will build towards another medal chance in Milan."
She is particularly pleased to be partnered with Ewan, who was vice skip of the ParalympicsGB line-up in Beijing.
"I wouldn't want to be doing this with anyone other than Gregor," said Dawson-Farrell.
"We have a great laugh and he is great support both on and off the ice and we communicate well with each other, so we don't have to worry about what we say or how we say it, we just understand each other and that makes it easy.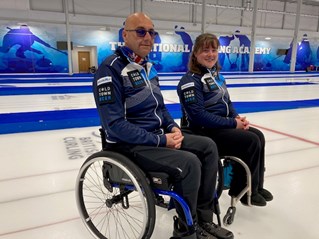 "We will have a lot of fun on the ice together and hopefully that will help us stay relaxed and enjoy every moment and I am interested to see what we can do together."
For the vastly experienced Ewan, this selection is the latest reward for the way he responded to battling back to get on the British Curling programme two years ago in transforming his fitness regime and losing eight stone in the course of that.
"Over the last few years we have put in a lot of time and effort into getting fitter, being as healthy as we can be and making the right choices to be best prepared for this season, so to be selected and to be given this opportunity to go out and represent Great Britain and now Scotland again is a huge honour and we just have to go out now and do our best," he said.
He sees the introduction of a Mixed Doubles World Championships as the latest evidence of the way in which wheelchair curling is developing.
"The game is always progressing so letting us have the same event as the able bodied curlers is important," he said.
"In four years time in Italy we will hopefully see Great Britain up the game for wheelchair curling competing in two events, the team and Mixed Doubles discipline, so we will have to put more hard work in and it gives us another medal chance which is great."
While the basic requirements of Mixed Doubles are similar to those of the four player team game, he acknowledged that there will be adjustments required.
"Mixed Doubles is a quicker game, with different strategies in this format but it's still right shot at the right time I guess," he said.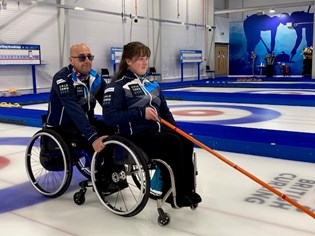 "In some ways only having two of you on ice at a time, communicating with each other also makes it simpler to talk through what you need to do.
"I have great rapport with Meggan and it is easier to keep that rapport going in the game when it is just the two of us."
"I know Meggan can make the shots and this will be new for everyone, so she will take this in her stride.
"It will be those who get on top of the ice and the time management and the faster pace of game that do well and we want to be in among them."
Having made two 10,000 mile round trips to Beijing for this season's World Wheelchair Curling Championships and the Paralympics, he is also grateful for a shorter journey this time around, noting that: "We have got a good opportunity as it is in Finland this year and we have been there a lot, so we are familiar with the country and the time zone is closer to ours which makes it all easier to adjust for this competition and that helps to work in our favour."
The introduction of another opportunity to showcase the sport on the global stage was meanwhile welcomed as significant by British Curling Paralympic Head Coach Sheila Swan.
"It's good to see this discipline added to our schedule having been included in the Olympic programme back in 2018," she observed.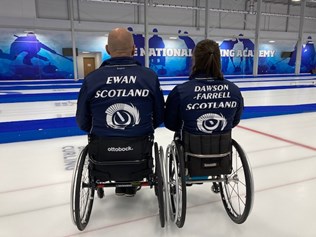 "It is important that we have parity across our Olympic and Paralympic schedules.
"This World Champs four years out is a great build up to the prospect of two disciplines and two medal opportunities at Milan Cortina in 2026 and this will give us a good gauge on the world stage of our preparation needs in this next important cycle."
She is also hoping that the next Paralympic cycle will prove to be more straightforward than the last one.
"This has been our busiest season yet on the back of a curtailed international schedule due to COVID in recent years and It is great to have these opportunities back again as we build towards what will hopefully be a less disrupted preparation cycle to the next Games to keep building the profile of the Paralympic movement around the world," she said.    
Scotland Wheelchair Curling Mixed Doubles Team
Meggan Dawson-Farrell
Gregor Ewan
#curling #WWhMDCC2022