Scotland's Team Morrison put in two powerful performances to claim victories over Czechia and Sweden and move into play-off contention on the third day's play at the Le Gruyere AOP European Curling Championship in Aberdeen.
Looking to bounce back after their win against Turkiye in their opening match had been followed by narrow defeats to Denmark and Italy, Rebecca Morrison, Jen Dodds, Sophie Sinclair and Sophie Jackson had to work hard early on against the Czechs, before seizing the initiative by getting their two at the third, following two blanked ends.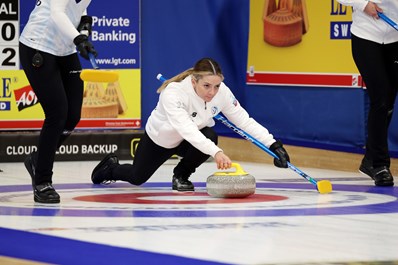 They continued to give no quarter either side of the midway break as the teams exchanged a shot apiece either side of another blanked end, before the building pressure finally took its toll on the Czechs and the Scots ran up a decisive five at the seventh end to secure an 8-1 win.
The early finish ensured that they had maximum energy to take into what looked set to be a crucial meeting with Sweden's Team Wrana as the round-robin stages passed the halfway mark.
With Gina Aitken replacing Sophie Sinclair as they continued their policy of interchanges, they started without the hammer, but took charge from the off, stealing a shot at the opening end, then a further two at the next.
While the Swedes rallied to get off the mark at the next, then further reduce the leeway at the fourth, the game was all but secured when Morrison executed a double take-out with her final shot at the fifth end to claim a four which took her team into the midway break in buoyant mood, knowing the result was all but secure.
From that point it was about scoreboard management and while they conceded twos at the sixth and eighth ends, there were no major alarms as they ran out 9-7 winners.
"We were defending a really big lead against Sweden and it's always difficult when teams are coming hard at you, so losing twos in that situation was no bad thing," skip Morrison observed.
"It's been a brilliant day. 
"Everyone came out absolutely firing and I couldn't have asked for much more from anyone on the ice.
"We're just delighted to get those two wins today and it's filled us with confidence for the four games ahead."
They head into another two-game day tomorrow looking for the results that could all but secure a place in the semi-finals, starting against Germany, who have a record of one win and four losses, before they meet World champions Switzerland, who have the only unbeaten record, but with whom they have had a succession of tight matches this season, winning the most recent of them.  
"Two wins tomorrow would be brilliant and would put us in a really strong position and if we play like we did today there's a good chance that will happen," said Morrison.

"This week the atmosphere in the arena has been great and it is always an honour representing Scottish Curling at these events. It helps us knowing we have so many Scottish fans in here cheering us on."
The top eight men's and women's teams at these Championships, which take place from November 18-25 will qualify for the World Championships later this season.
The BKT Tires World Women's Curling Championship 2024 will be hosted in Sydney, Nova Scotia, Canada in March 2024 and the LGT World Men's Curling Championship 2024 will take place in Schaffhausen, Switzerland in April 2024.
Games will be broadcast on Recast available on The Curling Channel. 
The following games will be available on the BBC Sport website, app and BBC iPlayer. 
Monday 20 November
Scotland women v Sweden (1600)
Scotland men v Switzerland (1200)
Tuesday 21 November
Scotland women v Germany (0900) & Switzerland (1900)
Wednesday 22 November
Scotland men v Netherlands (0900)
Thursday 23 November
Scotland women v Norway (0900)

Play-offs and medal matches - TBC.

Scotland Schedule:
Saturday 18 November
Women's Round Robin Session 1
Scotland v Turkiye 8-4

Men's Round Robin Session 1
Scotland v Norway 5-3

Women's Round Robin Session 2
Scotland v Denmark 9-11

Sunday 19 November
Men's Round Robin Session 2
Scotland v Sweden 5-8

Women's Round Robin Session 3
Scotland v Italy 6-7

Men's Round Robin Session 3
Scotland v Czechia 6-5
Monday 20 November
Women's Round Robin Session 4
Scotland v Czechia 8-1
Men's Round Robin Session 4
Scotland v Switzerland 9-6

Women's Round Robin Session 5
Scotland v Sweden 9-7

Men's Round Robin Session 5 – 20.00
Scotland v Germany

Tuesday 21 November
Women's Round Robin Session 6 – 09.00
Scotland v Germany

Men's Round Robin Session 6 – 14.00
Scotland v Italy

Women's Round Robin Session 7 – 19.00
Scotland v Switzerland

Wednesday 22 November
Men's Round Robin Session 7 – 09.00
Scotland v Netherlands

Women's Round Robin Session 8 – 14.00
Scotland v Estonia

Men's Round Robin Session 8 – 19.00
Scotland v Turkiye

Thursday 23 November
Women's Round Robin Session 9 – 09.00
Scotland v Norway

Men's Round Robin Session 9 – 14.00
Scotland v Finland

Women's Semi Finals – 19.00

Friday 24 November
Men's Semi Finals – 09.00

Women's Bronze Medal Game – 14.00
Men's Bronze Medal Game – 19.00

Saturday 25 November
Women's Gold Medal Game – 09.00
Men's Gold Medal Game – 14.00
Scotland Women
Rebecca Morrison
Jennifer Dodds
Gina Aitken
Sophie Jackson
Sophie Sinclair
Coach: Ross Paterson

Scotland Men
Bruce Mouat
Grant Hardie
Bobby Lammie
Hammy McMillan
Kyle Waddell
Coach: Michael Goodfellow
#curling #ECC2023

Image: WCF