Scotland's Team Mouat came through a challenging day's play at the Le Gruyere AOP European Curling Championships with a brace of comfortable wins that sets them up for a showdown for top spot in the standings with unbeaten Italy.
Title holders and reigning World champions Bruce Mouat, Grant Hardie, Bobby Lammie and Hammy McMillan went into the third day of action at Curl Aberdeen having won two of their first three matches, but knowing they faced potentially crucial matches against perennial medal contenders Switzerland and a German rink that went into the day unbeaten.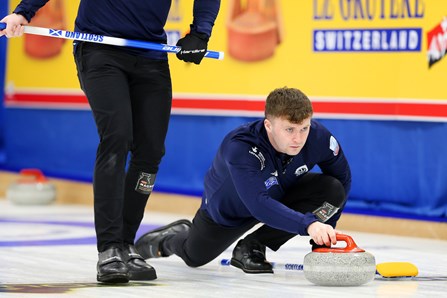 In the early stages of their meeting with Yannick Schwaller's Swiss team it looked set to be a tough battle when, after they were forced at the opening end, the Scots conceded a three at the second.
However, a two at the next levelled the scores and after they forced at the next, a three at the fifth end took them into the midway break with a 6-4 advantage and they took control from that point, applying pressure which drew a string of uncharacteristic misses from their opponents as they ran out 9-6 winners. 
By contrast, they took charge of their meeting with the Germans, who had lost their 100 per cent record to Norway earlier in the day, from the off, scoring a two at the opening end and powering into a 6-1 lead after four ends, the match ending when they registered their fourth two at the sixth end to claim an 8-2 lead that their opponents considered unassailable.        
"We just had one bad shot in the first two ends against the Swiss and ended up losing a three which was a disappointing start," said Mouat.
"However we really bounced back well and controlled the game, which was good to see.
"Against the Germans we came out really solid, put some pressure on them early and got some misses, which we capitalised on and ended up running away with the game.
"It was particularly nice to have an early finish on a long, two-game day."
They face only one match on day four, against Joel Retornaz's high-flying Italians who came into the event having just claimed the world number one ranking for the first time on the back of having won the first two Grand Slams of the season and they have lived up to that billing, passing the halfway mark in the round-robin with five wins from five. 
"The Italians will be really tough tomorrow," Mouat acknowledged.
"They're obviously playing very well and are on a bit of a winning streak, so it will be good to try to end that and hopefully if we win, then we can top the table, which is the plan.
"We would then get the hammer in the semi-finals, which is what we'd obviously hope for, but there's a long way to go until the play-offs."
The top eight men's and women's teams at these Championships, which take place from November 18-25 will qualify for the World Championships later this season.
The BKT Tires World Women's Curling Championship 2024 will be hosted in Sydney, Nova Scotia, Canada in March 2024 and the LGT World Men's Curling Championship 2024 will take place in Schaffhausen, Switzerland in April 2024.
Games will be broadcast on Recast available on The Curling Channel 
The following games will be available on the BBC Sport website, app and BBC iPlayer 
Tuesday 21 November
Scotland women v Germany (0900) & Switzerland (1900)
Wednesday 22 November
Scotland men v Netherlands (0900)
Thursday 23 November
Scotland women v Norway (0900)

Play-offs and medal matches - TBC.

Scotland Schedule:
Saturday 18 November
Women's Round Robin Session 1
Scotland v Turkiye 8-4

Men's Round Robin Session 1
Scotland v Norway 5-3

Women's Round Robin Session 2
Scotland v Denmark 9-11

Sunday 19 November
Men's Round Robin Session 2
Scotland v Sweden 5-8

Women's Round Robin Session 3
Scotland v Italy 6-7

Men's Round Robin Session 3
Scotland v Czechia 6-5
Monday 20 November
Women's Round Robin Session 4
Scotland v Czechia 8-1
Men's Round Robin Session 4
Scotland v Switzerland 9-6

Women's Round Robin Session 5
Scotland v Sweden 9-7

Men's Round Robin Session 5
Scotland v Germany 8-2

Tuesday 21 November
Women's Round Robin Session 6 – 09.00
Scotland v Germany

Men's Round Robin Session 6 – 14.00
Scotland v Italy

Women's Round Robin Session 7 – 19.00
Scotland v Switzerland

Wednesday 22 November
Men's Round Robin Session 7 – 09.00
Scotland v Netherlands

Women's Round Robin Session 8 – 14.00
Scotland v Estonia

Men's Round Robin Session 8 – 19.00
Scotland v Turkiye

Thursday 23 November
Women's Round Robin Session 9 – 09.00
Scotland v Norway

Men's Round Robin Session 9 – 14.00
Scotland v Finland

Women's Semi Finals – 19.00

Friday 24 November
Men's Semi Finals – 09.00

Women's Bronze Medal Game – 14.00
Men's Bronze Medal Game – 19.00

Saturday 25 November
Women's Gold Medal Game – 09.00
Men's Gold Medal Game – 14.00
Scotland Women
Rebecca Morrison
Jennifer Dodds
Gina Aitken
Sophie Jackson
Sophie Sinclair
Coach: Ross Paterson

Scotland Men
Bruce Mouat
Grant Hardie
Bobby Lammie
Hammy McMillan
Kyle Waddell
Coach: Michael Goodfellow
#curling #ECC2023

Image: WCF