British Curling's wheelchair team just missed out on a bronze medal after conceding a steal to Latvia at the final end of their third place play-off at the WCT Tallin International, but took considerable confidence from their last overseas trip before heading to Beijing for the Paralympics.
The quartet of Hugh Nibloe, Gregor Ewan, David Melrose and Meggan Dawson-Farrell had performed well throughout the weekend, competing well in losing their first two matches to Russia (5-4) and Sweden (9-6), both of whom medalled at this season's World Championship, by narrow margins, before embarking on a winning run against two more of the teams they will meet in China, beating Latvia 5-3 and Estonia 7-2, then securing a 7-6 win over Finland which took them into the medal matches.
In that bronze medal decider they looked to have the upper hand again in their re-match against the Latvians, before slipping up at the last.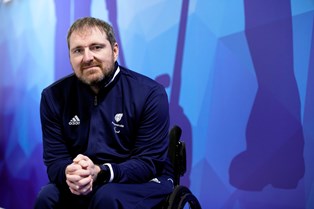 For skip Hugh Nibloe it was a slightly disappointing way to mark his 40th birthday, but he felt there had been plenty of positives on the day and across the weekend.
"I think it has been really important for our preparation, playing in a strong competition playing some really good teams and we got the chance to gauge ourselves against them," he said.
"We will see four of these teams at the Paralympics, so if we work on the things we need to we know we can be up there in among the medals. It is up to us now and we have about 50 or so days and we just need to work on certain areas and get things right.
"Each of us have things to work on and I know I have got some things that I need to get through and Gregor, Meggan and David have little things they have to work on too.
"Team-wise, dynamic-wise it has been really good. We keep building and the team keeps getting stronger and it has been valuable spending time together in the competition environment."
For Sheila Swan, British Curling's Paralympics Head Coach, the weekend was a particularly useful exercise in helping clarify her thinking regarding the shape of the team for the Games.
"We are probably 90% sure of the line-up combination," she said.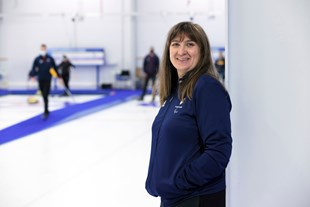 "This weekend we had Hugh skipping the team and Gregor as Vice-Skip but playing skip stones so it has helped in terms of working out combinations for Beijing."
She has seen enough to be convinced that they are on course to have a real chance of winning honours in Beijing.
"The athletes this weekend have shown that they are all capable of a medal winning performance, but we need to work really hard over the next 50 days on bringing that A game to the ice on a regular basis and bringing that A game all together all the time," said Swan.
"There have been too many games this weekend and this season where we have had good performances from individuals within the team, but we have not all come to the party at the same time. We have some work to do on that, our high performance is good when we bring that all together on the ice.
"There is room for improvement to make the play-off games and also make the podium and make no mistake we will be doing everything in our power to make sure that work is done before we get on that plane to Beijing."