Meggan Dawson-Farrell and Gregor Ewan produced a gutsy 6-5 win over the host nation to keep their play-off bid alive heading into their final match against Sweden at the inaugural World Wheelchair Curling Mixed Doubles Championships in Finland.
After getting off to an excellent start, stealing shots at each of the first three ends, the Scottish pair were made to fight all the way by Finland's Sari and Markku Karjalainen.
However, they gained the upper hand once and for all after they secured a two on their powerplay at the sixth end and a steal at the next, giving them a two shot lead heading into the final end which let them hold on for the win.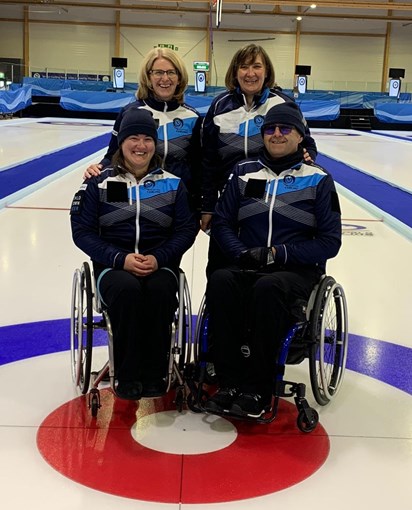 "The first three ends we were always in control, scoring at each of them, but then we let them get a three which brought it back to peels," Ewan said afterwards.
"However we managed to grind it out to get a 6-5 win and we produced some lovely draws to get it, but it was definitely hard fought for."
He reckoned that the attention they have played to the tactics required to make the most of powerplays in what is a new element for the wheelchair curlers to get used to, had proved crucial.
"Working with our coaches we've worked out that in a powerplay we've been playing well out to the right and it's getting us opportunities," he said.
He admitted that they have also had to work hard to cope with the conditions in Lohja's Kisakallio Sports Institute.
"The ice is challenging because it's got such a big swing on it. We're looking at five feet of swing," said Ewan.
"Sometimes keeping up with how quick it's falling off is hard for me, but we're just keeping timing and watching each other's stones and you've just got to keep making your best effort."
With the top three teams in the pool qualifying for the play-offs, the win put them into a five way tie for fourth, one place behind their final round-robin opponents.
"Sweden's always a hard game," Ewan acknowledged.
"We've played against them in normal team games quite a bit, but never in the pairs situation, though, so it'll be different and hopefully if Meggan and I turn up and play our shots, we can give ourselves a chance to win."
It has been a real roller coaster campaign for the Scots as they adjust to the new discipline in high class company and their performances on the fourth day typified their overall experience.
Having claimed an impressive win against Estonia in their only match on day three, the Scottish pair looked to be picking up where they left off when they won the draw shot challenge to take last stone advantage into the opening end of their meeting with Korea and duly registered a three to open proceedings.
Their opponents responded well, however, levelling the match at the second end, then stealing at each of the next three ends to set up a commanding 6-3 lead.
The Scots then took their powerplay and managed to end that run of lost ends by scoring at the sixth and after the Koreans scored two more at the seventh, they set things up to give themselves a chance but were not quite able to secure the big score that would have kept the match alive.
The event, held at the Kisakallio Sports Institute in Lohja, Finland (30 April – 5 May), features 18 national teams, split into two groups of nine, competing in a round-robin format, ahead of knockout play-offs for the medals.
Scotland Wheelchair Curling Mixed Doubles Team
Meggan Dawson-Farrell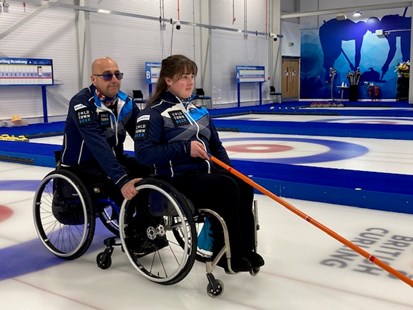 Gregor Ewan
Saturday 30 April
Scotland – Switzerland 5-10
Scotland – Hungary 7-4

Sunday 1 May
Scotland – Japan 8-4
Scotland – Italy 11-1

Monday 2 May
Scotland – Estonia 8-6

Tuesday 3 May
Scotland – Korea 5-8
Scotland – Finland 6-5

Wednesday 4 May
Scotland – Sweden

Thursday 5 May
Semi finals
A1 v winner of B2 v A3
B1 v winner of A2 v B3
Finals
#curling #WWhMDCC2022