Bruce Mouat's World champions got off to an ideal start to the defence of their Le Gruyere AOP European Curling Championship title at Curl Aberdeen with a high class display to beat a Norwegian quartet that is expected to be among the medal contenders at the end of next week.
Mouat, Grant Hardie, Bobby Lammie and Hammy McMillan all finished with percentages well into the nineties after earning the hammer in the pre-match Last Stone Draw then, after exchanging forces at the opening end, registering a two at the third end and forcing their opponents at the next to ease into a 3-2 lead.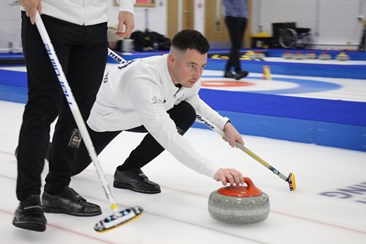 From that point they maintained a vice-like grip on proceedings, blanking the next three ends before securing another two at the eighth to put themselves in a powerful position and they duly closed out a 5-3 win without any alarms.
As their skip pointed out, the result was all the more satisfying because Magnus Ramsfjell's rink have proven troublesome opponents for them.  
"It's definitely good to get that first win on the board right away," said Mouat.
"In these events momentum is key, so a good win against a strong team is what you want in the first game. It settles some nerves as well.
"We were expecting a tough one against the Norwegian boys. They actually have a winning record against us this season, so we knew it would be a close game and we would have to play well." 
While they have enjoyed enormous success all over the world in their six years together on tour, the match was a new experience for them as they represented Scotland for the first time at senior level in a home arena and they thoroughly appreciated the extra backing.
"We obviously had a wee bit of knowledge coming into the event with playing in Aberdeen quite a lot, so it was nice to feel that home environment with some fans in the stands making some noise," said Mouat.
"Things you don't necessarily think of come into play being here. 
"We've stayed in the hotel we're in before and eaten in restaurants we know are around the area, so that extra knowledge all helps make you feel at home."
They will be looking to make that count in their next match as they come up against their Swedish arch-rivals led by six times World and seven-times European champions Team Edin in the first of two matches on a second day, which will also see them face the Czech Republic.
"It will be good to play against Sweden tomorrow," said Mouat. 
"Obviously they're never any gimme or pushover, so we'll have to play well again."
The top eight men's and women's teams at these Championships, which take place from November 18-25 will qualify for the World Championships later this season.
The BKT Tires World Women's Curling Championship 2024 will be hosted in Sydney, Nova Scotia, Canada in March 2024 and the LGT World Men's Curling Championship 2024 will take place in Schaffhausen, Switzerland in April 2024.
Games will be broadcast on Recast available on The Curling Channel. 
The following games will be available on the BBC Sport website, app and BBC iPlayer. 
Sunday 19 November
Scotland men v Sweden (0900)
Scotland women v Italy (1400)
Monday 20 November
Scotland women v Sweden (1600)
Scotland men v Switzerland (1200)
Tuesday 21 November
Scotland women v Germany (0900) & Switzerland (1900)
Wednesday 22 November
Scotland men v Netherlands (0900)
Thursday 23 November
Scotland women v Norway (0900)
Play-offs and medal matches - TBC.

Scotland Schedule:
Saturday 18 November
Women's Round Robin Session 1
Scotland v Turkiye 8-4

Men's Round Robin Session 1
Scotland v Norway 5-3

Women's Round Robin Session 2 – 19.30
Scotland v Denmark

Sunday 19 November
Men's Round Robin Session 2 – 09.00
Scotland v Sweden

Women's Round Robin Session 3 – 14.00
Scotland v Italy

Men's Round Robin Session 3 – 19.00
Scotland v Czechia
Monday 20 November
Women's Round Robin Session 4 – 08.00
Scotland v Czechia
Men's Round Robin Session 4 – 12.00
Scotland v Switzerland

Women's Round Robin Session 5 – 16.00
Scotland v Sweden

Men's Round Robin Session 5 – 20.00
Scotland v Germany

Tuesday 21 November
Women's Round Robin Session 6 – 09.00
Scotland v Germany

Men's Round Robin Session 6 – 14.00
Scotland v Italy

Women's Round Robin Session 7 – 19.00
Scotland v Switzerland

Wednesday 22 November
Men's Round Robin Session 7 – 09.00
Scotland v Netherlands

Women's Round Robin Session 8 – 14.00
Scotland v Estonia

Men's Round Robin Session 8 – 19.00
Scotland v Turkiye

Thursday 23 November
Women's Round Robin Session 9 – 09.00
Scotland v Norway

Men's Round Robin Session 9 – 14.00
Scotland v Finland

Women's Semi Finals – 19.00

Friday 24 November
Men's Semi Finals – 09.00

Women's Bronze Medal Game – 14.00
Men's Bronze Medal Game – 19.00

Saturday 25 November
Women's Gold Medal Game – 09.00
Men's Gold Medal Game – 14.00
Scotland Women
Rebecca Morrison
Jennifer Dodds
Gina Aitken
Sophie Jackson
Sophie Sinclair
Coach: Ross Paterson

Scotland Men
Bruce Mouat
Grant Hardie
Bobby Lammie
Hammy McMillan
Kyle Waddell
Coach: Michael Goodfellow
#curling