British Curling's women know they have everything to play for as they head into the Curlers Corner Autumn Gold Classic in Calgary on the back of an impressive start to the season by the entire nine player squad.
Line-ups have been constantly re-shuffled since the 2020/21 campaign began as selectors have examined the individual performances and team chemistry in assessing players at the beginning of a campaign, that will see a selected team compete in the final Olympic qualifying tournament for the first time in a bid to qualify Team GB a place at the Beijing Winter Olympics.
That has opened up opportunities and brought an extra edge to performances, resulting in tournament wins for teams led by Eve Muirhead and Rebecca Morrison, while Gina Aitken has also skipped a team to a final.
On her latest visit to Canada, where her performances in Grand Slam tournaments and major championships have seen her become a household name, three-time Olympian Muirhead acknowledged that it has brought new dynamics into play.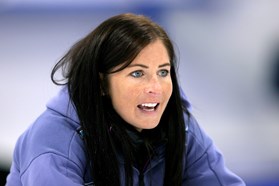 "I've played this event many times, but it does feel a little bit different this time as part of a squad system," she said.
"We know this is the last event as a squad and we're all feeling very competitive and everyone's obviously fighting for selection for the big events coming up, so no matter what team takes to the ice we're all gunning for wins to do well and impress the coaches."
Muirhead is pleased to be able to draw on a tournament win, gained at The Challenger tournament which included both the reigning World and Olympic champions in Switzerland last month as she readies herself to meet the best in the world, partnered this week by Vicky Wright, Jen Dodds, Mili Smith and Hailey Duff.
"Having a title under my belt does provide a lot of confidence and we know this will be a very strong field here in Calgary," she said.
"There's a lot of world class teams here, so it's going to be tough, but we've shown as a squad that we're capable of getting onto the podium many times and putting in good performances."
The other British Curling team this week will be skipped by Morrison who is accompanied by Gina Aitken, Lauren Gray and Sophie Sinclair.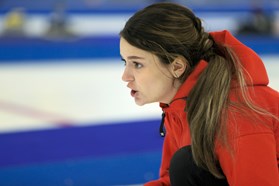 "We're looking forward to playing in Canada and getting our name out there again," said Morrison, who led her team to victory in the opening event of the season at the Euro Super Series on home ice at the National Curling Academy in Stirling.
"There are lots of good teams out here, so the competition will be a great standard.
"We are just looking forward to putting on a good performance this weekend and looking to come away with a win."
The cream of Canadian curling, including their reigning national champions Team Einarson, as well as Olympians Team Homan and Team Jones will be in action in the 32-team event that is being played under a Triple Knockout format.

Team Red
Rebecca Morrison
Lauren Gray
Gina Aitken
Sophie Sinclair

Team Blue
Eve Muirhead
Vicky Wright
Jen Dodds
Mili Smith
Hailey Duff

Results