Having claimed victory in their only overseas competition of this season, Team Mouat head back on the road this week aiming to demonstrate that they are ready to play at an even higher standard than they produced in defeating the top ranked team in the world.
After ending last season by winning back-to-back Grand Slam titles in Canada, the quartet of skip Bruce Mouat, Grant Hardie, Bobby Lammie and Hammy McMillan carried that form across the Atlantic last month, beating world no.1 ranked Team Jacobs in the final of the Stu Sells Oakville Tankard.
They then headed home for an intensive period of preparation in anticipation of a challenging schedule over the next few weeks and skip Bruce Mouat believes they are ready to go, as part of a four-strong Scottish challenge.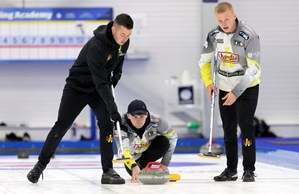 "We're very excited to start competing again after quite a few weeks off following the success we had in Oakville," he said.
"We've been putting in a lot of hours on the ice and in the gym, so hopefully that's going to pay off for us when we get out to Switzerland."
Europe's leading teams, including Sweden's Team Edin, who beat Mouat in the final of the World Championship last season and the host nation's Team De Cruz - who finished third at the World Champs - will all be in action this week and it is one of the Scottish team's favourite tournaments.
"We love playing in The Swiss Cup in Basel," said Mouat.
"Each year it's a really high-class field and they normally put on a really good event for us all to play in, so it will be great to get some competitive games under our belt against really good international opponents."
He consequently believes it should also provide the ideal preparation for heading back to Canada to try to claim further Grand Slam success at The Masters in Oakville and at The Boost National in Chestermere at the start of November.
"The venue itself is a really good one," said Mouat.
"The ice is normally pretty decent and the competition is even higher, so we're definitely looking forward to playing in Europe again for the first time in a while and getting back on the road again before we head out to the Slams at Oakville and Chestermere as we move onto a busier time for us."
They are joined on the trip over by fellow Scots Team Whyte as well as Team Paterson and Team Watt.
Along with team-mates Robin Brydone, Duncan McFadzean and Euan Kyle, Ross Whyte has also tasted success in Canada this season, beating Team Paterson in the final of last month's KW Fall Classic before reaching the final of the ATB Okotoks Classic a week later and they are also heading to The Swiss Cup full of confidence.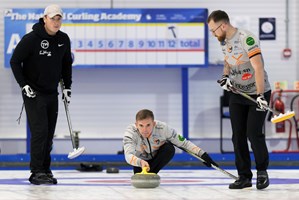 "We are excited to head out to Basel to compete in a top quality field," said Whyte.
"Many great teams are playing this weekend so we can't wait to go out and try to win. We have been training well since being back so are looking forward to this event."
They will also be heading to Oakville to contest The Masters later in the month in what will be their Grand Slam debut.
"This will set us up nicely to go out and compete in our first Slam which we can't wait to get started with," he said.
For Team Paterson, who are also heading to Oakville for that first Grand Slam event of the season, this weekend's event is the first of two in Switzerland ahead of flying out to Canada as they continue to adjust to their new playing order with 2018 Olympian Kyle Waddell playing skip stones this season.
 "We are looking forward to competing in Basel again," he said.
"It's one of the best events in Europe so we know what to expect and are looking forward to getting things going again."
He is enjoying his new responsibilities and has welcomed the support he has received from teammates Ross Paterson, Duncan Menzies and his younger brother Craig who joined the team, this season, as well as from their coach Tom Brewster.
"In terms of skipping, I feel comfortable," he said.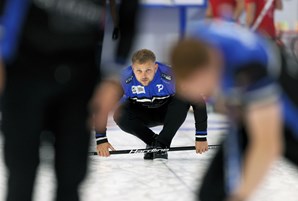 "Having not skipped at this level before, it's a case of learning from each game. Working with Tom helps that and the it's the same with the boys, we know how we want to play the game.
"I know their throws inside out, so really it's about me learning. I have worked and played with some pretty good skips in the past so I have tried to take elements from that too."
As past Grand Slam winners, having beaten then defending champions Team Mouat in the first ever all-Scottish Slam final at the Boost National in 2018, they are looking to use the next two weekends in Switzerland, which will also see them contest the Champery Masters, to get fully match fit.

"We are on a three event trip, ending with the Slam, so we can hopefully use these two events to get into form before that," he said.
"It's our first Slam with this line up and I'd imagine with what happened last season with Covid the boys will be keen to get in the arena and play.
"The Slams are the best events on the tour, the top 15 teams, so you always need to perform at a high level and we are excited to compete in them again."
Team Mouat
Bruce Mouat
Grant Hardie
Bobby Lammie
Hammy McMillan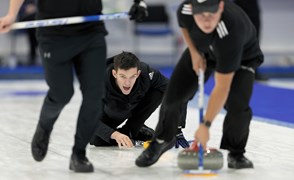 Team Whyte
Ross Whyte
Robin Brydone
Duncan McFadzean
Euan Kyle

Team Paterson
Kyle Waddell
Ross Paterson
Duncan Menzies
Craig Waddell

Team Watt
Mark Watt
Gregor Cannon
Blair Haswell
Gavin Barr

Results