Around its headline themes of 'Changes, Challenges and Choices,' British Curling's Performance Lifestyle support is one of many services that dovetail to ensure that the programme is athlete centred and epitomises the importance of a joined up and seamless approach to services for athletes on the programme.
Available throughout the lifecycle of an athlete, this service aims to help them through various sporting career transition stages alongside their lifestyle demands and requirements away from the sport.
It is provided by three sportscotland Performance Lifestyle Advisers who primarily work with different areas of the programme: Brown Ferguson, who works with podium and podium potential athletes; Paula Jarvie, who looks after Performance Foundation; and Nikki Redfern, who is engaged with the Paralympic squad. They are part of a wider network of advisers, all of whom provide regional support to our athletes at different stages of their careers. Ferguson oversees this provision to our programme, while also providing an educational role to Academy athletes, therefore facilitating a joined up approach and consistency throughout the pathway.
The highly experienced practitioners provide a holistic approach to each individual they work with in areas such as managing their sporting schedule and profile, while balancing this with educational, professional, family and other lifestyle demands, therefore minimising any areas of potential conflict.
Effective planning and support enables athletes during different transition phases the additional support they might require in order to maintain competitive confidence without distraction and therefore providing the best possible foundation for optimum podium and medal potential. Any high-performance athlete journey may require support in the areas of:
transition management – from pathway entry to progression to podium and planning for life after sport.
multiple career management – planning for balance around educational and working demands, with the demands of a high-performance competition and training schedule.
athlete welfare and well-being.
injury management and performance behaviours.
CASE STUDY: Bobby Lammie – Performance When It Counts

Sportscotland Performance Lifestyle (PL) Advisers will work with a number of athletes during different stages with the aim of helping some of those that might need support during various pressure points during their careers.
Sometimes those circumstances occur in the most unexpected ways and for Bobby Lammie's it was almost a case of being caught out by the scale of his team's success.
As Team Mouat's second, Lammie was studying for a BSc Sport & Exercise Science degree at the University of Stirling when his team enjoyed a meteoric rise in the world rankings. Having started the degree in 2016, it was during 2017 when Lammie and teammates became the first Scottish men's team to win a Grand Slam title when they won the Boost National. However, it was the behind the scenes support that helped to boost Lammie's focus while he was on ice.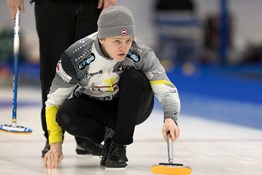 "2017 was a great year for us on ice, but away from the ice it was definitely a pressure point for me with my studies," says the three-time Scottish champion.
"We had a busy tournament schedule and I was really excited, but being away meant I needed to catch up on class content online and trying to do that became really challenging.
"The University of Stirling is really good at helping those who like me are trying to balance sporting and academic careers at the same time, but I found it hard keeping up with the work and the exams while I was away.
"Once you are behind you feel like you are chasing all the time and it was uncomfortable and I quickly realised I had a lot of ground to cover and it felt like there was not enough time. Looking back, I think I felt quite overwhelmed by it at the time."
He was, however, able to call upon the support of Brown Ferguson, the PL Adviser who works with British Curling's podium and podium potential athletes, to help at that stage.
Through open and regular communication with David Bond, Director of Performance at the University of Stirling, Ferguson has built a relationship that allows him to flag any issues with those on sports scholarships at the University and, accordingly, to re-organise an athlete's curriculum to work with a sporting schedule.
"Brown Ferguson through his discussion with the University of Stirling was able to organise a leave of absence for me during January to May, so I was able to defer my studies which enabled me to focus on my curling," Lammie explains.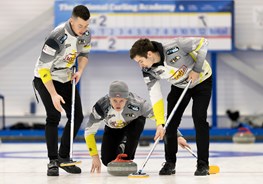 "The break really made a difference and I was able to pick up my studies again during my third year and was really able to get my head down again. Brown helped me to plan ahead and be more organised and then it felt like I had it all under control again.

"It felt like I was back on track and soon got into a bit of a groove with managing Uni work and also my curling. I had to be more strict with my time and be much more disciplined off ice in the same way as when I was on ice. It meant I was worrying far less about Uni and it helped me feel much more comfortable about everything.
"I think there had been two big transitions for me – what was happening with the team but also with Uni work getting more intense and it was a noticeable gear change on both fronts.

"When we were away at events, if the guys were going out for a walk or to explore the local area or go for a nice coffee, I had to learn to have the self-discipline to use that downtime to get my Uni work done.
"That in turn led to a sense of relief when I started to enjoy Uni again and I wasn't feeling that continuous pressure and it meant I could focus better on my curling.
"The PL support without doubt helped get Uni back on track for me and that in turn helped me on ice. The distraction and pressure had lifted. That support has helped me moving forward knowing that being more organised takes off the pressure."
Lammie can now continue with the sport he loves with the confidence of knowing that he has an academic qualification that will assist him in planning a future beyond his top flight curling career.
"All that hard work paid off when I graduated in the summer of 2020. I am really pleased I have got my degree now and know I can use that when I want to in the future," he says.
"I am not going to lie, I do not miss the ongoing deadlines of Uni work and exams, but I am glad that with support I was able to take control of the situation and make it a success.
"Help with the planning allowed me to balance the demands in that period of my life and without that it could have had a bigger impact down the line on what I was doing on ice. Having the confidence to know I was getting the Uni work done helped to make me much more comfortable on ice.
"I now have that degree in my back pocket and the sky is really the limit in regards to what the team do on ice now and I will use all the planning skills I have learned to make sure that makes me the best curler I can be and whatever else I might choose to do on the sideline in the future."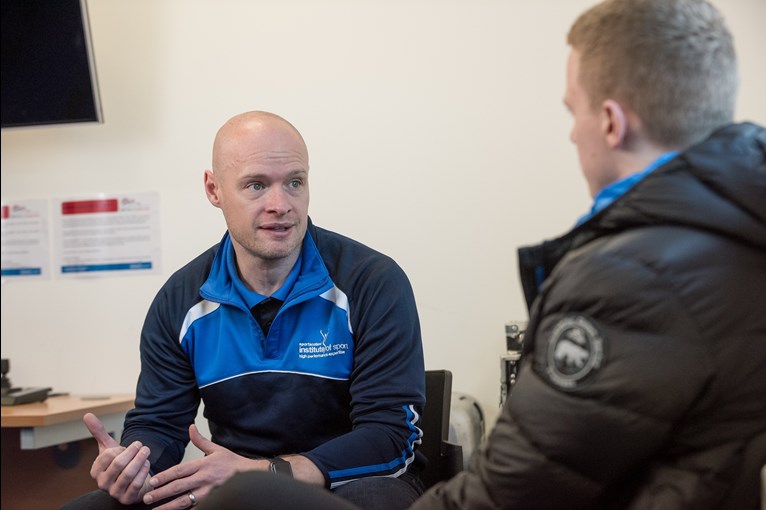 Additional